UW Research
iSTAR (Improving Service to Advance Research)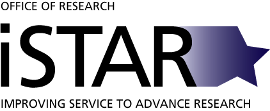 Our mission is to create an outstanding climate of support for UW researchers. We prioritize and launch projects that minimize researchers and research administrators' burden, help increase research capabilities across this university, and improve service to advance research (iSTAR). We work closely with our research partners on key projects that increase automation and standardization of processes. This dashboard reflects our work through the iSTAR initiative.
Aligned with our strategic goals:
Add value to the overall research experience
Achieve operational excellence
Attract and retain top diverse staff
Add value to the UW
The Office of Research and its units:
Conduct regular surveys to obtain customer and employee feedback
Hold quarterly OR leadership meetings
Hold annual half-day leadership retreats
Formulate strategic unit-specific goals for the upcoming year
Measure critical unit functions and updates the organization's metrics dashboard quarterly
Have active teams made up of management and staff addressing unit organizational improvement efforts on an ongoing basis
Through this work, the Office of Research remains committed to our strategic goals, mission and vision to "create an outstanding climate of support for University of Washington researchers, broadly enabling stellar research advances."
FY19 Q3 HIGHLIGHTS
HSD: Successful Implementation of the Revised Common Rule
HSD: Successful Implementation of a major "patch" (revision) to Zipline e-IRB system
ORIS: Developed four-minute "Welcome to MyResearch" video introduction to the MyResearch Product. This video is a component of the Faculty Grants Management Online Refresher course and is a stand-alone training and promotional tool appearing on the website.
Customer Service
Measures our effectiveness in the area of customer service, our highest priority.
Operational Excellence
Establishes baseline data and measurement of our internal business processes.
Resource Optimization
Tracks efficiency increases, cost reduction and project effectiveness.
Staff Learning and Development
Tracks staff learning and development.