UW Research
Related Tools and Resources
OSP Mission and Vision
Mission
We partner with the research community and provide oversight, administrative structure and consultation to enhance researchers' abilities to obtain and manage sponsored programs.
Vision
We are leaders in sponsored program administration. We strive to provide the highest level of professionalism and expertise to support and promote a world-class research environment.
MyResearch Project Lifecycle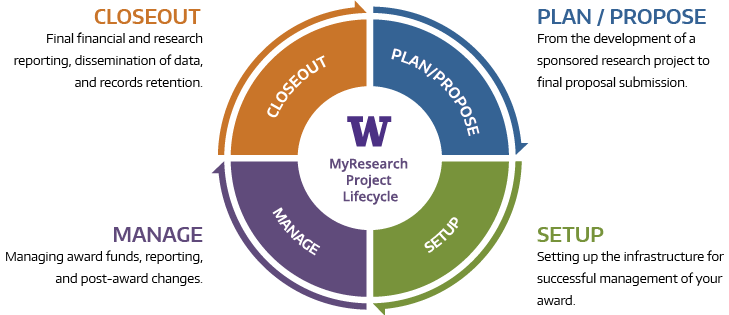 MyResearch Lifecycle circular image shows plan/propose, setup, manage and closeout sections of the lifecycle. Text accompanies all four sections rotating clockwise from top right of the circular lifecycle image; Plan/Propose: from development of research project to final submission, Setup: setting up the infrastructure for successful management of your award, Manage: managing award funds, reporting and post-award changes, Closeout: final financial and research reporting, dissemination of data, and records retention. The MyResearch Project Lifecycle represents all activities typically involved in a research project and provides guidance on key stages of the process.