UW Research
Vice Provost for Research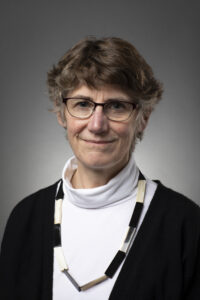 Mari Ostendorf
Vice Provost for Research
Endowed Professor of Systems Design Methodology
Professor of Electrical and Computer Engineering
vpresearch@uw.edu
(206) 685-1751
Box 351202
Heather Herrera
Executive Assistant
herrerah@uw.edu
(206) 685-1751
Mari Ostendorf assumed the role of Vice Provost for Research at the University of Washington on September 1, 2021. She is an Endowed Professor of System Design Methodologies in the Electrical & Computer Engineering (ECE) Department and has been serving as Associate Vice Provost for Research in the Office of Research since 2017. Professor Ostendorf joined the University of Washington in 1999, and she has previously served as Associate Dean for Research and Graduate Studies in the College of Engineering and Associate Chair for Research in the ECE Department. She also holds adjunct professor appointments in Computer Science and Engineering, and in Linguistics.  Prior to coming to UW, she was a Professor in the ECE Department at Boston University.
A prominent researcher in the areas of speech and language technology, Dr. Ostendorf's research explores dynamic and context-aware models for understanding and generating speech and text, with a current focus on conversational artificial intelligence. Her work contributes to a variety of applications, including automatic analysis of human-human call center conversations, extraction of information from clinical notes, and analysis of language use in STEM assessments to support efforts to reduce bias in education. For her contributions in spoken language processing, she was awarded the 2018 IEEE James L. Flanagan Speech and Audio Processing Award. Elected to the National Academy of Engineering in 2021, she is also a fellow of the IEEE, the International Speech and Communication Association and the Association for Computational Linguistics, a member of the Washington State Academy of Sciences, a Corresponding Fellow of the Royal Society of Edinburgh, and a former Australian-American Fulbright Scholar.
See Mari Ostendorf CV.