UW Research
June 1, 2023
Research Community Guide to UWFT: May Edition
The May issue of the Research Community Guide to UWFT newsletter was sent to the MRAM mailing list on May 31, 2023. This newsletter provides the UW research community with a round-up of important reminders, resources, and ways to reach out, in preparation for the changes to come when Workday Finance launches in July 2023. We've provided a web version of this newsletter here, but be sure to subscribe to the MRAM mailing list to receive our future editions as soon as they are published.
---

Need-to-know resources include: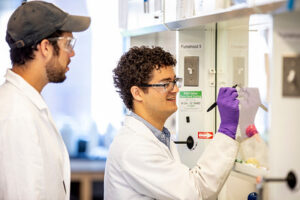 How can I prepare?
Prepare for New & Updated Grant Systems
System to Administer Grants Electronically (SAGE)
Check out our SAGE Budget and SAGE Awards resources! As a reminder, SAGE Budget will be required at the time of award setup, and SAGE Awards will go live on July 7.
Workday
Training: Log in to Bridge LMS to access your assigned Workday training based on your Workday role(s). If you have questions or believe you require an additional security role, contact your unit administrator. Most training is scheduled to be available by June 1.
Award Management: More information about managing your awards in Workday will be shared at the June 16 Bonus UWFT-Focused MRAM. Stay tuned and save the date!
Award Portal
Training: Award Portal, the replacement for GrantTracker, will launch on July 11, 2023. Campus users can expect several job aids and an eLearning providing step-by-step instructions on how to use key functionality. For more information about Award Portal, please visit the GCA Finance Transformation webpage.
Employee Compensation Compliance (ECC)
Overview: Beginning July 1, ECC replaces eFECS and the Grant & Contract Certification Report. Visit the Future of Effort Reporting to learn more.
Understand Changes Coming to MyResearch and RAD Reports
MyResearch: MyResearch is not being retired, but Funding Status data in MR will be stale as of end of day June 15. Award status information will be available in the SAGE Award Requests list at launch in early July.
RAD Reports: At end of day June 15, award data will become stale in all RAD-based reporting solutions (BI Portal, RAD Cube, and others). RAD-based reporting will be frozen following July 6 cutover, although historical data will remain accessible. Following cutover, request data and reports from grantrpt@uw.edu until further notice.
More detail is available at the May 19 MRAM presentation and slides.
Review Key Cutover Dates
---
Important Information for Researchers
Visit the new UWFT for Principal Investigators and PI Training Resources pages for skimmable, easily accessible information pertinent to PIs.
---
Spotlight: Award Setup & Tracking in SAGE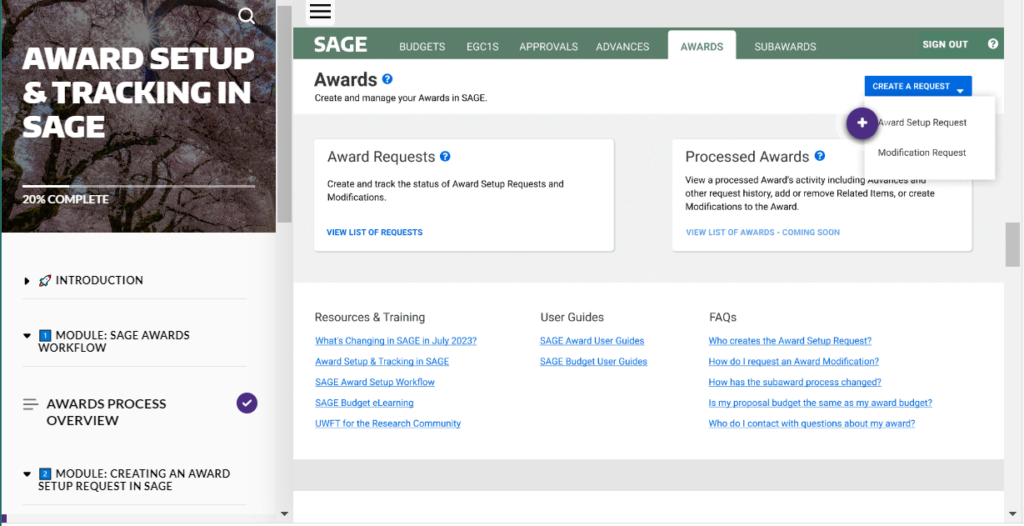 This new on-demand eLearning provides in-depth instruction on SAGE Awards, including creating Award Setup Requests and monitoring Award Requests. Explore the Award Setup & Tracking in SAGE eLearning today!
---
FAQs
We've included a few of our top FAQs. You can review many more research-related UWFT Q&A on the Research website.
How are subawards being handled up to and into future state?
June 12 is an important deadline for subaward and subaward modification management. For information on subwards and how they'll be handled during and after cutover in July, visit Preparing for Subaward Process Changes.
Which system will be used for which award-related task?
For a high-level overview of key sponsored award systems, see the Current and Future State Systems graphic. For a more detailed list of future state solutions, see the Change Network's System Crosswalk.
---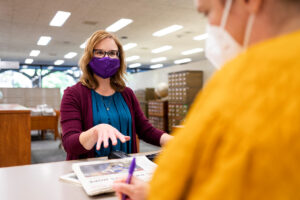 Where can I find the latest information?
UWFT for the Research Community: Updated May 2023. We've centralized relevant resources, like training and announcements, for researchers, administrators, and leaders in the research community.
Monthly Research Administration Meeting (MRAM): The MRAM meetings and mailing list are the primary ways we communicate relevant information to the research community. Join the MRAM mailing list to stay in the loop!
---
Connect with Us