UW Research
UWFT for the Research Community
On July 6, 2023, the UW switched from a nearly 50-year-old finance system to a new one – Workday Finance. With this transition came a great deal of change that is currently impacting the research community. This page brings together information and resources to help you navigate the transition.
Contents
---
Updated December 6, 2023
Reporting Problems
When you encounter problems, please start by working with your department staff to report the issues using the UW Connect Finance Portal. The problem reports will go to your School/College Shared Environment.
Check with your unit to make sure that there are no approvals pending (e.g. for invoices) or corrections needed in award setup and modification requests.
Reminder: PIs are required to approve subrecipient invoices on a bi-monthly basis using Workday.
If delays continue, or for other pressing matters, please elevate issues to your School or College Senior Research Administrators, and they will escalate the top priorities to Mandy Morneault, Chief Operating Officer in the Office of Research.
Refer to Central Office escalation processes:
---
Key Resources for Successful Award Setup & Modifications
Award Setup and Modification Volume
---
What's Changed for the Research Community?
Organization Codes to Cost Centers
Cost Centers have replaced Financial Organization Codes (Org Codes) across the SAGE Suite. For more information, please review the following job aid: Organization Code to Cost Center Job Aid. If you have questions or run into issues, please review the following table to better understand possible causes and assist SAGE Customer Support (sagehelp@uw.edu) staff with resolving your issue: SAGE Org Code to Cost Center Support
New Database for Sponsors & Donors
SAGE now leverages UW's new centralized sponsor database. When searching for a sponsor, enhanced search functionality includes:
Main sponsor name
Acronyms
Related names
Previous names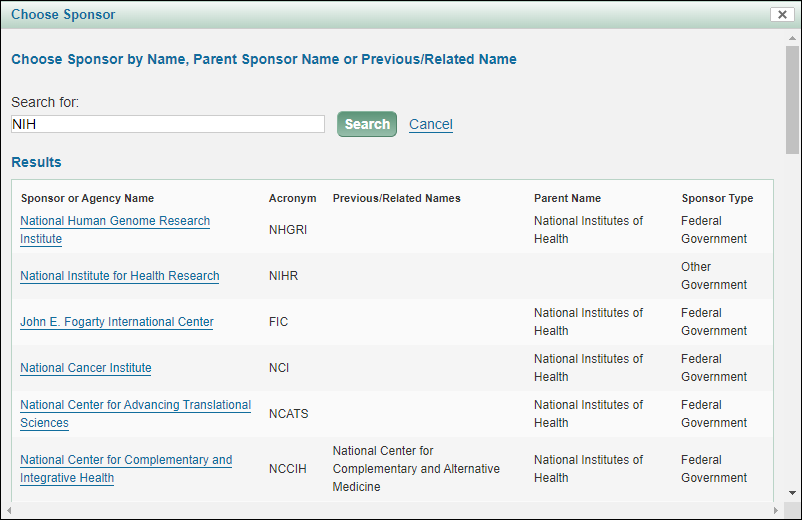 Searching for a sponsor on the Award Setup Request will look slightly different; however, you will still be able to search by parent name, previous/related names, and acronyms.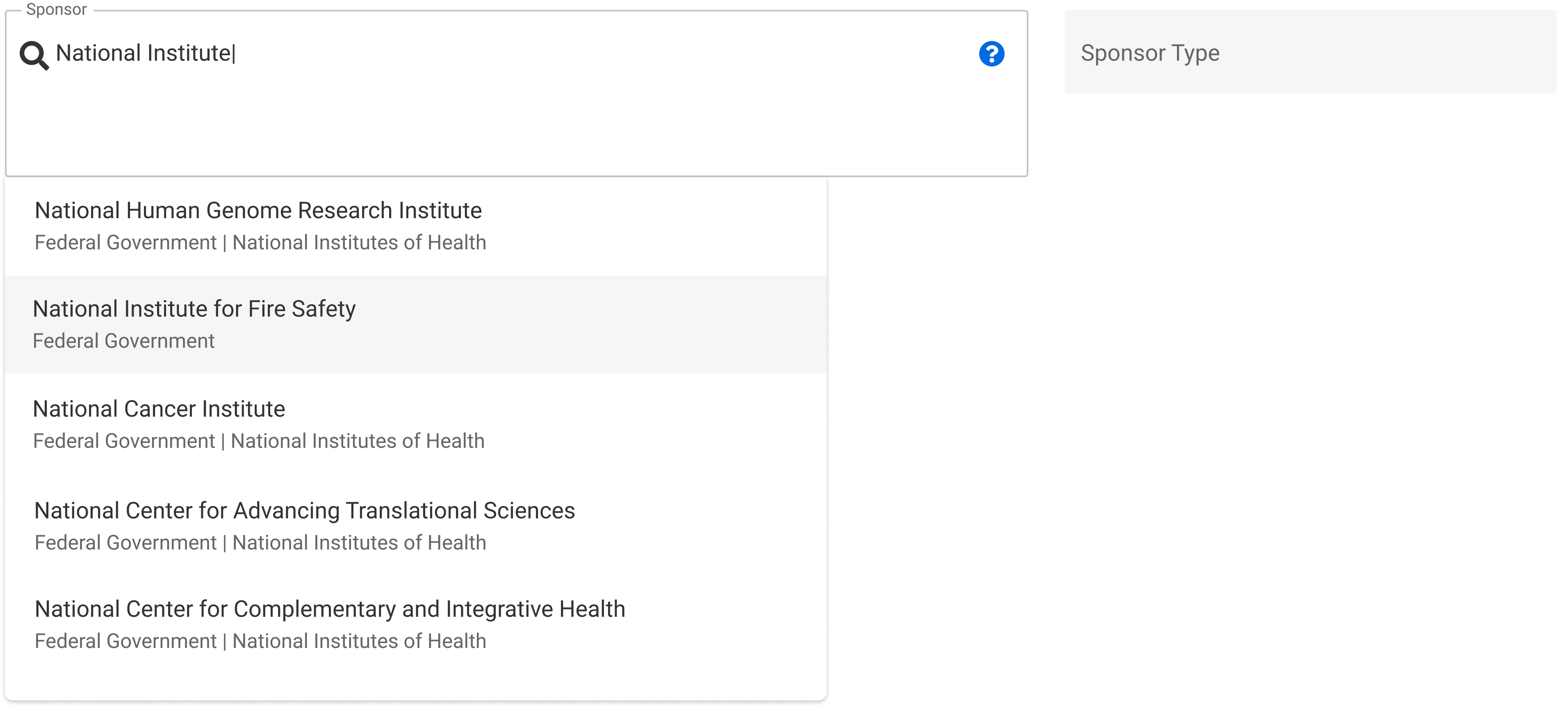 If you do not find your sponsor in the SAGE sponsor search, there will be a link from both the eGC1 and Award Setup Request to the new Request Sponsor Form to have the sponsor added. Once the addition is confirmed, you can select the sponsor in SAGE.
Request Sponsor Setup in Funding Entity System (from eGC1)

Request Sponsor Setup in Funding Entity System (from Award Setup Request) 
New Sponsor Request Form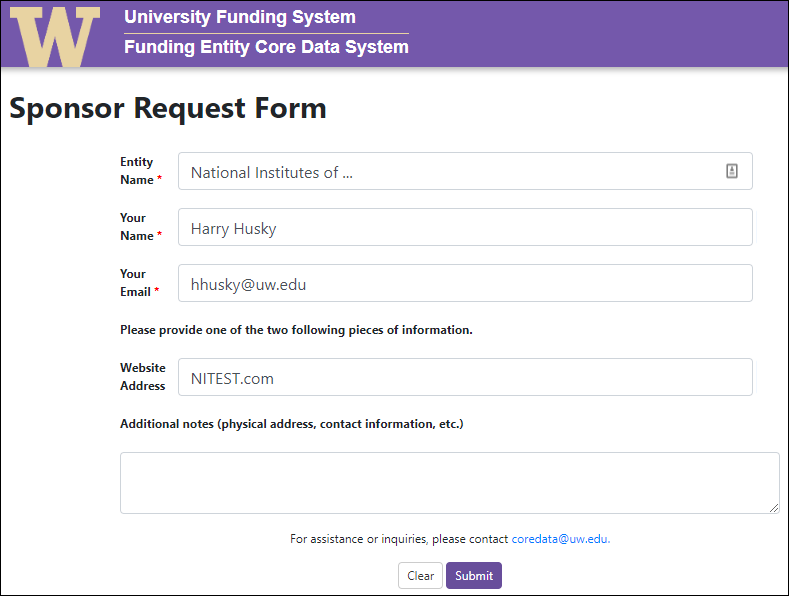 SAGE Budget Requirements
With UWFT, campus units are required to use SAGE Budget for award setup. SAGE Budget communicates budget information to Grant and Contract Accounting (GCA), provides a consistent format for reviewing budget details, and facilitates a direct flow of data between SAGE and Workday.
Get started using SAGE Budget today! Attend a SAGE Budget class, and review our job aid and user guides.
---
Principal Investigator Required on SAGE Budget Worksheets: SAGE Budget requires a Principal Investigator on all worksheets. Subaward worksheets default to the PI linked to the primary budget's worksheet.
---
Clinical Trials Office (CTO) Budgets (Creating a Clinical Trials Budget for SAGE Awards Job Aid): SAGE Budget will be required on all Award Setup requests, including budgets that will run through CTO review and Oncore billing. To help with Award Line and Award Period setup in Workday Finance, you will enter the following minimum information in a single SAGE budget worksheet with $0 amount. This setup should only take a few minutes:
Budget Settings

Budget Title

Budget Start Date

Total number of periods (defaults to 1)

Worksheet Settings

Primary Worksheet Title

Cost Center

Activity Location

Sponsored Program Activity Category

Sponsored Program Activity Type

Base Type (F&A need)

Budget Entry

Add a Principal Investigator for each worksheet
Enter $0 budget amounts for their salary
No other line item entry is required for the budget
For more information, visit the SAGE Awards page.
Award Setup Requests and Modifications
Award Setup Requests
Create Award Setup Requests from the new Awards tab in SAGE! Review the following information for more in-depth guidance:
Award Modifications
Modifications in SAGE are now available. Please note that TRANSPASUs and re-budgeting will now be accomplished through a modification request. In the meantime, please refer to the following resources to learn more about Modifications:
PI Required Approval on Subrecipient Invoices
Please be aware that PIs need to approve subrecipient invoices on a bi-monthly basis using Workday.
Award Portal and Grant Tracker
Award Portal provides up-to-date grant and contract information to UW researchers and staff. Financial data does not include expenditure detail, which can be found in Workday.
Use Grant Tracker to view information for awards that did not convert to Workday (i.e. awards closed before June 16, 2022). Grant Tracker will be in read-only mode effective July 7, 2023. If you need to contact GCA about an award that did not convert to Workday, please email gcahelp@uw.edu.
MyResearch
As of July 6, 2023, MyResearch Funding Status and Non-Award Agreement (NAA) data may be out of sync with SAGE and Workday until MyResearch is remediated. Please use SAGE to review eGC1 and award status until further notice.
Research Administration Data (RAD)
As of July 5, 2023, existing RAD reports are accessible but historical. Until new RAD 2.0 based reporting solutions are available, please request data from grantrpt@uw.edu until further notice.
SAGE Resources
Workday Resources
Stay Informed
Mailing Lists
Monthly Research Administration Meeting (MRAM)
MRAM is open to staff interested in research award administration at the UW. In addition to other research administration topics, we share relevant UWFT information at MRAM. Visit the MRAM website for more information.