UW News
Research
---
September 24, 2018
For angiosperms — or flowering plants — one of the most important decisions facing them each year is when to flower. It is no trivial undertaking. To flower, they must cease vegetative growth and commit to making those energetically expensive reproductive structures that will bring about the next generation. Knowledge of this process at the…
---
September 20, 2018
A University of Washington study finds that 18-month-old toddlers conduct a form of cost-benefit analysis, making choices based on how much effort they want to expend, or on whether they like the people involved.
---
September 19, 2018
The international trade in elephant ivory has been illegal since 1989, yet African elephant numbers continue to decline. In 2016, the International Union for Conservation of Nature cited ivory poaching as a primary reason for a staggering loss of about 111,000 elephants between 2005 and 2015 — leaving their total numbers at an estimated 415,000….
---
The National Science Foundation will support a state-of-the-art marine facility that continues delivering data and new insight to the ocean science community, policymakers and the public worldwide.
---
September 17, 2018
Rapid deoxygenation in the Gulf of St. Lawrence is caused by shifts in two of the ocean's most powerful currents: the Gulf Stream and the Labrador Current. A detailed model shows that large-scale climate change is causing oxygen to drop in the deeper parts of this biologically rich waterway.
---
September 12, 2018
The National Science Foundation announced on Sept. 11 that it is awarding grants totaling $8.5 million to 19 collaborative projects at 23 universities for the study of complex and entrenched problems in data science. Three of these projects will be based at the University of Washington and led by researchers in the College of Engineering and the College of Arts & Sciences.
---
September 10, 2018
Justin Marlowe, a professor in the UW's Evans School of Public Policy & Governance, has been named a member of Washington Governor Jay Inslee's Council of Economic Advisors. He will be among those advising the governor on local and state economic conditions and national developments that affect state policies.
---
Two UW polar scientists were among a dozen experts who advised NASA on its upcoming ICESat-2 mission to monitor the 3D surface of the Earth. The mission is scheduled to launch Sept. 15 from California.
---
September 6, 2018
Evidence left by a volcano under the ice sheet suggests that the observed bulging of ice in West Antarctica is a short-term feature that may not affect the glacier's motion over the long term.
---
September 4, 2018
On Sept. 4 the National Science Foundation announced the creation of the Institute for Research and Innovation in Software for High Energy Physics, or IRIS-HEP. The institute is a coalition of 17 research institutions, including the University of Washington, and will receive $25 million from the NSF over five years.
---
The Center for Sensorimotor Neural Engineering is updating its name to the Center for Neurotechnology (CNT) to highlight the key role that neurotechnologies play in its mission.
---
August 30, 2018
In a paper published Aug. 31 in the journal Science, a team led by scientists at the University of Washington reports that insect activity in today's temperate, crop-growing regions will rise along with temperatures. Researchers project that this activity, in turn, will boost worldwide losses of rice, corn and wheat by 10-25 percent for each degree Celsius that global mean surface temperatures rise.
---
August 28, 2018
A study by the University of Washington and Cornell University shows that the risk of being killed by police, relative to white men, is 3.2 to 3.5 times higher for black men, and between 1.4 and 1.7 times higher for Latino men.
---
An exploration of UW Libraries' Labor Archives of Washington with labor archivist Conor Casey.
---
August 23, 2018
A team from the University of Washington, New York University and the University of California, Berkeley has developed an interactive workshop in data science for researchers at multiple stages of their careers. The course format, called "hack week," blends elements from both traditional lecture-style pedagogy with participant-driven projects.
---
August 21, 2018
Last year, King County Metro and the Seattle Department of Transportation started a pilot program that allowed Microsoft's and Seattle Children's Hospital's private shuttles to pick up employees at a few public bus stops throughout Seattle. Now a recent study from researchers at the University of Washington suggests that public buses are unaffected by private shuttles most of the time.
---
University of Washington researchers argue that further study of why infants persist, and to what end, may shed new light on how they learn and what the future yields.
---
University of Washington researchers have found policies are shifting toward restoration projects that include input from more groups and offer a range of benefits to Puget Sound, including flood control, salmon recovery, recreation and habitat protection.
---
August 20, 2018
Meticulously tracking of 423 species before, during and after the worst droughts to hit California in more than a thousand years shows surprising patterns. Key prey species plummeted in the third year of the drought, and carnivores were hardest hit in later years.
---
August 16, 2018
A new UW-led study shows that males and female process visual motion differently, a variation that may be attributable to a neural regulatory process that is different in the male brain.
---
August 15, 2018
Researchers at the University of Washington have developed a new method that gives aircraft a backup system in case GPS fails: An antenna on the ground that can tell a drone where it is. The team successfully tested their system in June.
---
August 14, 2018
A new study led by the University of Washington uses data gathered by floating drones in the Southern Ocean over past winters to learn how much carbon dioxide is transferred by the surrounding seas. Results show that in winter the open water nearest the sea ice surrounding Antarctica releases significantly more carbon dioxide than previously believed.
---
August 13, 2018
Hans Scholl, professor in the UW Information School, discusses the challenges and opportunities of digital government. The website Apolitical has named him among the "Top 100 Most Influential People in digital government."
---
August 9, 2018
In a paper published online July 23 in the journal Nature, a UW-led research team reports that the 2-D form of tungsten ditelluride can undergo "ferroelectric switching." Materials with ferroelectric properties can have applications in memory storage, capacitors, RFID card technologies and even medical sensors — and tungsten ditelluride is the first exfoliated 2-D material known to undergo ferroelectric switching.
---
August 7, 2018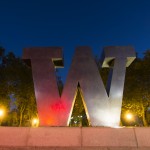 The NIH has awarded a $6.5 million, five-year grant to the University of Washington and partner institutions to establish the Center for Reproducible Biomedical Modeling. The center's primary goal is to develop more effective predictive models of biological systems, which are used in research and medicine.
---
Hilary Wething, a doctoral student in the University of Washington's Evans School of Public Policy & Governance, has received a grant to study the effects of Seattle's law requiring paid sick leave.
---
August 6, 2018
When young children talk to voice-activated technologies, the devices don't always respond in a helpful way. A new University of Washington study suggests that these interfaces could be designed to be more responsive – repeating or prompting the user, for example – and be more useful to more people.
---
August 3, 2018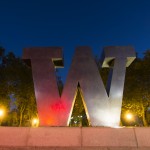 The U.S. Department of Energy has awarded an expected $10.75 million, four-year grant to the University of Washington, the Pacific Northwest National Laboratory and other partner institutions for a new interdisciplinary research center to define the enigmatic rules that govern how molecular-scale building blocks assemble into ordered structures and give rise to complex hierarchical materials.
---
August 2, 2018
Recent notable books by University of Washington authors tell of the struggle to break free of racism in higher education, taking an "urban diary" approach to documenting city life and more.
---
August 1, 2018
A team led by the University of Washington has created an environmentally friendly way to remove color from dyes in water in a matter of seconds.
---
July 30, 2018
A University of Washington report provides the best projections yet for sea-level rise due to climate change at 171 sites along Washington's coasts.
---
July 25, 2018
In a paper published online this spring in the journal Nature Photonics, scientists at the University of Washington report that a prototype semiconductor thin-film has performed even better than today's best solar cell materials at emitting light.
---
July 23, 2018
Observations over the eastern U.S. show why emissions reductions haven't achieved the same results in winter as they have in summer.
---
July 18, 2018
New research suggests the Atlantic Ocean is transitioning back to its slower phase, which means average global air temperatures will go back to rising more quickly.
---
July 9, 2018
Earth's oxygen levels rose and fell more than once hundreds of millions of years before the planetwide success of the Great Oxidation Event about 2.4 billion years ago, new research from the University of Washington shows.
---
A typically developing 2-month-old baby can make cooing sounds, suck on her hand to calm down and smile at people. At that age, the mouth is the primary focus: Such young infants aren't yet reaching for objects with their hands or using their feet to get around, so the lips – for eating, pacifying…
---
July 2, 2018
Regions of Arctic water are becoming ice-free in late summer and early fall. A new study is the first to consider potential impacts on the marine mammals that use this region and identify which populations will be the most vulnerable to ships.
---
University of Washington assistant professor of human centered design and engineering Daniela Rosner explores some hidden histories in technology design in her new book "Critical Fabulations." The book highlights the idea that design stories from the past can show today's designers how to create more inclusive technology.
---
June 27, 2018
In a paper published April 5 in the journal Endangered Species Research, scientists at the University of Washington announced that, for a Galápagos penguin, beak size is nearly a perfect indicator of whether a bird is male or female.
---
June 21, 2018
More than 100 scientists and crew from more than 20 U.S. research institutions, including the UW, will depart in August for a month-long expedition to study how the ocean absorbs carbon from the atmosphere.
---
Next page