UW Research
UWFT for Principal Investigators
On July 6, 2023, the UW switched from a nearly 50-year-old finance system to a new one – Workday Finance. With this transition came a great deal of change that is currently impacting the research community. This page provides important information to help Principal Investigators (PIs) navigate the transition. Be sure to visit PI Training Resources for the latest courses and training resources.
---
Contents
---
Reporting Problems
When you encounter problems, please start by working with your department staff to report the issues using the UW Connect Finance Portal. The problem reports will go to your School/College Shared Environment.
Check with your unit to make sure that there are no approvals pending (e.g. for invoices) or corrections needed in Award Setup and Modification requests.
Reminder: PIs are required to approve subrecipient invoices on a bi-monthly basis using Workday.
If delays continue, or for other pressing matters, please elevate issues to your School or College Senior Research Administrators, and they will escalate the top priorities to Mandy Morneault, Chief Operating Officer in the Office of Research.
Refer to Central Office escalation processes:
What's Changed for PIs?
PIs should be aware of the following changes:
SAGE Budget is required at the time of award, and award preparers create Award Setup Requests and monitor these requests via the new SAGE Awards feature.
SAGE Budget requires a Principal Investigator on all worksheets. Subaward worksheets default to the PI linked to the primary budget's worksheet.
eFECS and the Grant and Contract Certification Report (GCCR) have been replaced by the Employee Compensation Compliance (ECC) system.
PIs need to approve subrecipient invoices on a bi-monthly basis using Workday.
PIs, along with Grant Managers, need to identify specific funding sources to meet Cost Share, including faculty effort cost share, at the time of award.
How Do PIs Access Workday?
Workday roles determine what information you can access and tasks you can complete in Workday. PIs are assigned one or both of the following roles:
Principal Investigator (Grants) Role:

PIs with active awards are automatically assigned the Workday role Principal Investigator (Grants), which simply means that you have the authority to see and approve spending on your awards.

Grant Manager Role:

Some PIs who do not have administrative support also receive the Grant Manager role and should expect additional training. If this applies to you, check with your unit administrator to make sure you have had the Grant Manager role assigned to you.
Based on your role(s), you have access to certain Workday training courses. Visit PI Training Resources for information on the latest courses and training resources available to you.
Where Do Award-Related Activities Take Place?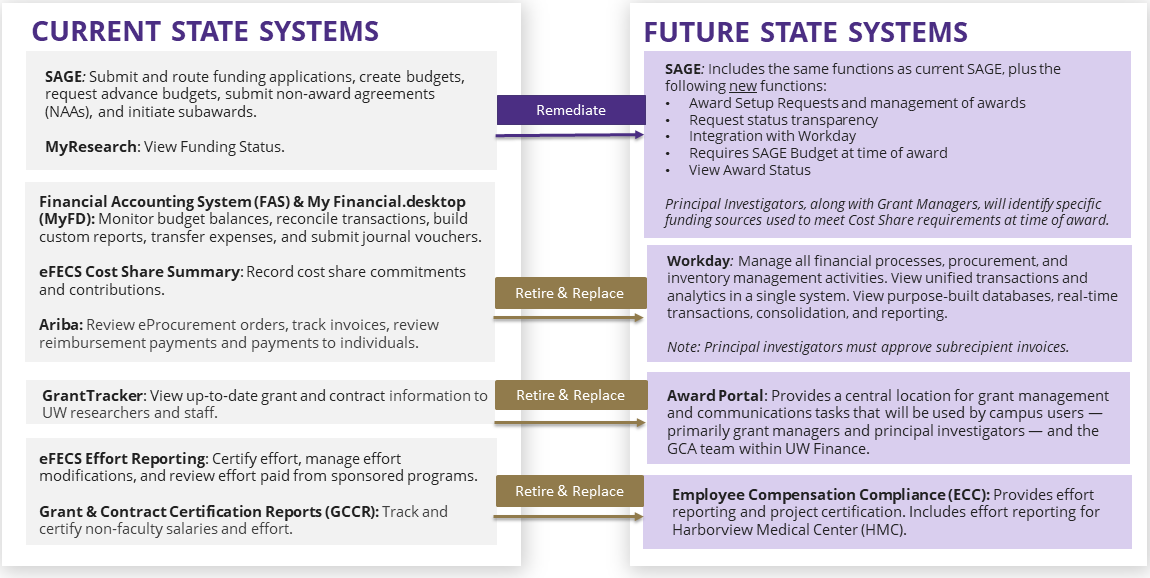 For more details on current to future state systems, please visit: System Crosswalk – Current to Future State
SAGE
Award Setup: The new SAGE Award process streamlines award setup and modification, and provides transparency into key award information. This page provides an overview of how to set up your awards in SAGE.
Workday Finance
Award Portal
Award Portal: Award Portal is a new system that replaces GrantTracker. In addition to SAGE and MyResearch, Award Portal assists with grant management and communications tasks with GCA. ​Training materials and resources are available on GCA's Award Portal webpage.
Employee Compensation Compliance (ECC)