UW Research
UWFT for Principal Investigators
This page provides important information for Principal Investigators (PIs) on the changes coming with Workday Finance go-live in July 2023 that directly affect sponsored research – from proposal submission through award closeout. Be sure to visit PI Training Resources for the latest courses and training resources.
---
Contents
---
What's Changing for PIs?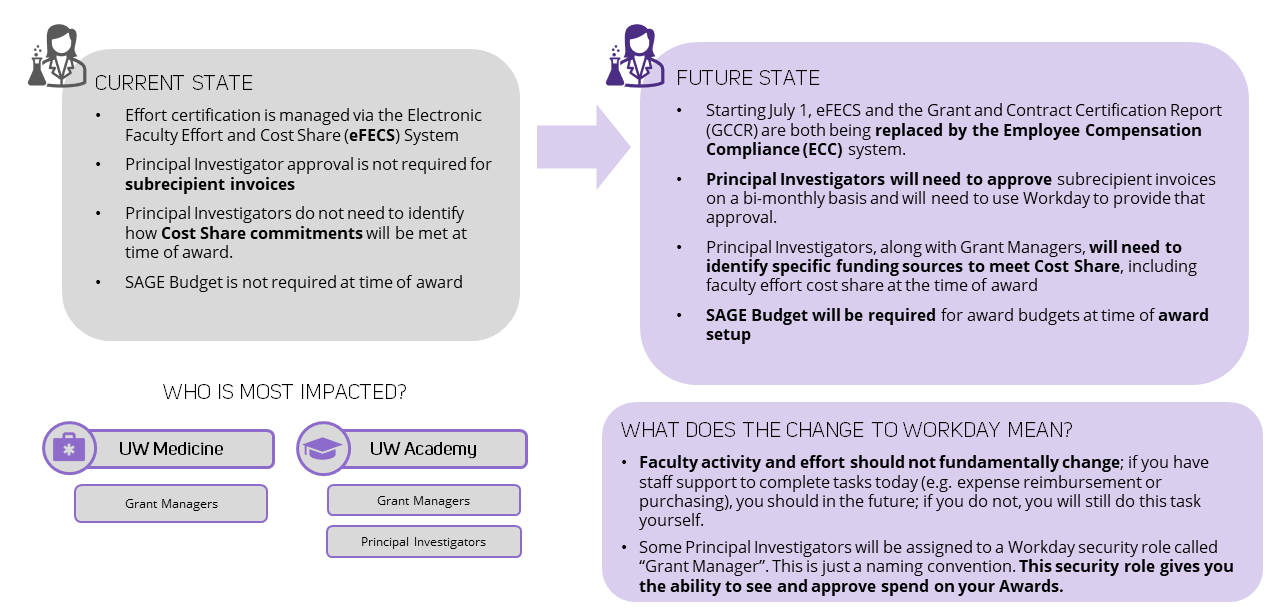 PIs should be aware of the following changes taking effect in July 2023:
SAGE Budget will be required at the time of award, and award preparers will create Award Setup Requests and monitor these requests via the new SAGE Awards feature
eFECS and the Grant and Contract Certification Report (GCCR) are both being replaced by the Employee Compensation Compliance (ECC) system
PIs will need to approve subrecipient invoices on a bi-monthly basis using Workday
PIs, along with Grant Managers, will need to identify specific funding sources to meet Cost Share, including faculty effort cost share, at the time of award
What Dates Should PIs Be Aware of to Stay on Track?
The process of switching over to the new system will involve a period from June through July (referred to as "cutover" and "catch-up") where many transactions are limited or need to be processed manually:
First Week of June: You are advised to submit requests in the first week of June for purchases that you need to make in this fiscal year.
6/07: The last day to submit Advance Extension Requests and No-Cost Extension or Temporary Budget Extension Requests for awards that end between 6/09 and 8/01.
6/09: No new awards will be set up after 6/09 until after 7/06.There will be a manual process that delays award set-up through July. If you are expecting an award with an anticipated start date between 6/09 and 8/01, you should consider submitting an Advance Budget Request by 5/31.
Before 6/12: Review all open subaward Blanket Purchase Orders (BPOs) in Ariba. Follow UW Procurement guidance on Open Orders from their March newsletter.
6/13: Last day to submit Advance Budget Requests to GCA.
6/05-7/05: Subawards: Review guidance for Subaward Requests Between 6/05-7/05.
As always, you accept responsibility for charges if the award does not come in.
View more important dates to prepare.
How Do PIs Access Workday?
Workday roles determine what information you can access and tasks you can complete in Workday. PIs are assigned one or both of the following roles:
Principal Investigator (Grants) Role:

PIs with active awards are automatically assigned the Workday role Principal Investigator (Grants), which simply means that you have the authority to see and approve spending on your awards.

Grant Manager Role:

Some PIs who do not have administrative support will also receive the Grant Manager role and should expect additional training. If this applies to you, check with your unit administrator to make sure you have had the Grant Manager role assigned to you.
Based on your role(s), you will have access to certain Workday training courses. Visit PI Training Resources for information on the latest courses and training resources available to you.
Where Will Award-Related Activities Take Place?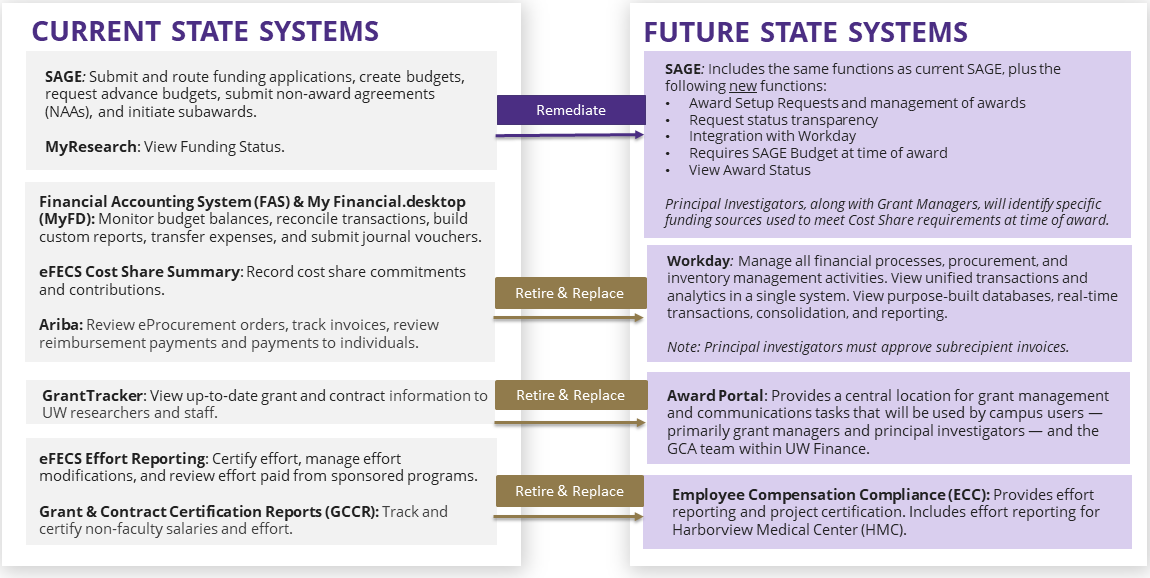 SAGE
Award Setup: The new SAGE Award process streamlines award setup and modification, and provides transparency into key award information. This page provides an overview of how to set up your awards in SAGE.
Workday Finance
Procurement & Supply Chain: This page provides information on the new procurement and supply chain processes that will be replacing the Purchasing Accounting System
Award Portal
Award Portal:

This video (timestamp: 29:01-54:28)

demonstrates the new Award Portal system that will be replacing GrantTracker. In addition to SAGE and MyResearch, Award Portal will assist with grant management and communications tasks with GCA. ​
Employee Compensation Compliance (ECC)
Effort Reporting:

Employee Compensation Compliance (ECC) will replace effort reporting in July 2023. This page provides more information and includes the benefits of ECC, such as automation throughout the effort reporting process, standardized workflows across UW, improved compliance, and a more intuitive user interface.