UW Research
Assign Primary Contact

Print
The primary contact role is assigned by default to the person who created the study in Zipline. The primary contact:
Receives all communications from the IRB (as does the PI and any PI Proxies)
Can be changed at any time throughout the life of the study
May edit the study
May or may not be a member of the study team
1. Click Assign Primary Contact in the study workspace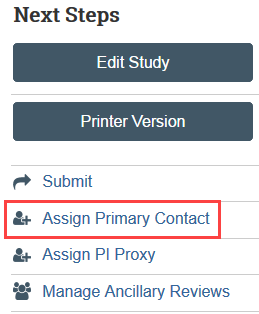 2. Click the ellipsis next to the current primary contact

3. Select the new primary contact from the list and click OK
NOTE: All users must have a Zipline account before they can be added to a study in Zipline. If the person you want to add is not on the list, they must create a Zipline account.
4. Click OK in the Assign Primary Contact window

The new primary contact should now be listed in the study workspace.