UW Research
March 6, 2023
Research Community Guide to UWFT: Winter Newsletter
The Winter issue of the Research Community Guide to UWFT newsletter was sent to the MRAM mailing list on March 2, 2023. This newsletter provides the UW research community with a round-up of important reminders, resources, and ways to reach us, in preparation for the changes to come when Workday Finance launches in July 2023. We've provided a web version of this newsletter here, but be sure to subscribe to the MRAM mailing list to receive our future editions as soon as they are published.
---

Need-to-know resources include:
How can I prepare?
Events & Training
Workday
UWFT User Preparation Videos: Visit the Change Network for short, on-demand training videos on finance topics like reporting in Workday, accounting principles, and more.
On The Horizon: Workday Finance Process Sharing Demos: View the full collection of On The Horizon videos for overviews of Workday Finance functionality and processes.
Bridge Learning Management System (LMS) Courses: Future Workday training, including virtual instructor-led courses, will be assigned by Workday security roles. This spring, you'll be able to use the Bridge Learning Management System (LMS) to view the course catalog and register for appropriate courses. For more detail, review the Workday Training presentation in the fifth UWFT Roadshow.
Award Portal
What is Award Portal? Award Portal is a brand-new application that will replicate the functionality of GrantTracker and create a "one-stop shop" for grant management and communications tasks by users across campus and the GCA team within UW Finance.
How do I learn more?

GCA Forum: Please visit the GCA forum webpage for details and recordings of previous forums, including a live demo of Award Portal.
GrantTracker and Award Portal: Side-by-Side: This document illustrates how designers and developers have made a concerted effort to build a familiar user experience in the new system to enable communication between GCA and campus and provide a single view of grant financials. For example, the same order of sections in the budget roll-up and the same field labels to aid navigation were retained.
Training: A training plan for Award Portal is currently in development by the Finance Readiness Program and will include a series of job-aids and recorded demonstrations.
SAGE Budget
Check out our SAGE Budget resources and attend an upcoming class to get started using SAGE Budget today! As a reminder, SAGE Budget will be required at the time of award setup. SAGE Budget classes provide real-time instruction and Q&A with longtime SAGE experts.
Spotlight: SAGE Budget eLearning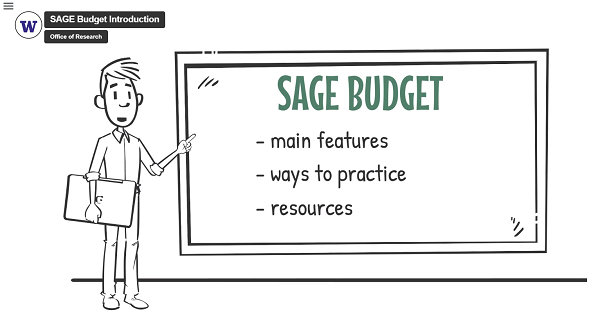 SAGE Budget eLearning is a convenient companion to other SAGE Budget resources. It is self-paced, available at any time, and can help refresh your memory on each step of the budget process.
Get started with SAGE Budget eLearning today.
Reach out to us at sagehelp@uw.edu if you have questions as you navigate this course.
Important Information for Researchers

The SAGE Award feature supports a new process coming to research administration in July 2023. SAGE Awards will help centralize award information and streamline the award setup process. Learn more by watching the February MRAM SAGE Awards Demo to see functionality, or visit the SAGE Award page.
FAQs
What is changing with effort reporting?
Employee Compensation Compliance (ECC) will replace effort reporting in July 2023. ECC's benefits include automation throughout the effort reporting process, standardized workflows across UW, improved compliance, and a more intuitive user interface. Read a more detailed overview and FAQs related to ECC.
How will Award Modifications work after July 2023?
The Award Modification process is in active development and not yet finalized. More information on how to request changes to your awards will be available closer to July 2023.
How will F&A on subawards be handled in Workday?
In current state, GCA must manually adjust UW F&A rates on a quarterly basis when the basis limit (typically $25,000) is reached. In future state, Workday will post UW F&A in real time and automatically stop charging it at the basis limit. View an explainer video and transcript with more detail. We hope to share more on the future state subawards process soon. Stay tuned.
Read more FAQs related to research systems and upcoming changes on the Research Website.
Where do I find the latest information?
Workday Finance launches in July 2023. July may seem far away, but there are many resources you can review now to help prepare early and make the transition as seamlessly as possible.
UWFT for the Research Community: Updated February 2023. We've centralized relevant resources for researchers, administrators, and leaders in the research community. Bookmark this page and check back often for the latest on what's changing, resources and training opportunities, announcements, and frequently asked questions.
Monthly Research Administration Meeting (MRAM): MRAM will be a primary way we communicate information relevant to the research community leading up to the UWFT launch. Attend the Monthly Research Administrator Meeting (MRAM) for regular updates on policies, procedures, and demonstrations. Encourage your colleagues to sign up for the MRAM mailing list to receive this newsletter.
Connect With Us