UW Research
November 13, 2023
11/9/23 SAGE Release Summary
The following email was sent to the SAGE and MRAM mailing lists on Thursday, 11/9, following the SAGE feature release.
---
SAGE Release Highlights
Dear Research Colleagues,
The following features were released to SAGE today, Thursday, 11/9/23. If you have any questions, please reach out to us at sagehelp@uw.edu.
Release Summary
Subawards: Subawards can now be submitted via SAGE. To set up a new subaward, you will search for your Workday Award ID instead of the eGC1. Because subawards are now associated with awards rather than Funding Actions (FAs), the FA lookup has been removed. However, legacy FA data will still be shown for existing subawards.
Holds: The Office of Sponsored Programs (OSP) and Grant & Contract Accounting (GCA) can now apply and remove holds to Award Setup and Modification Requests. Campus users are alerted to holds via a banner at the top of the request, and can view more details about the hold in the Comments & History section.
Required Fields Highlighting: Various fields in SAGE Budget, Award Setup, and Modification Requests are now marked as required with an asterisk and are highlighted if left blank. Requests will not route until required fields are complete. Updated sections include:

SAGE Budget: Worksheet Settings
Award Setup Request: General Information, Supporting Attachments, Connect a SAGE Budget
Modification Request: General Information, Supporting Attachments
In the SAGE Budget Salary and Benefit Costs section, help text has also been added to remind users that a person must be entered with the Principal Investigator (PI) role to provide the necessary grant PI data to Workday for award setup.
Example of Required Fields in SAGE Budget Worksheet Settings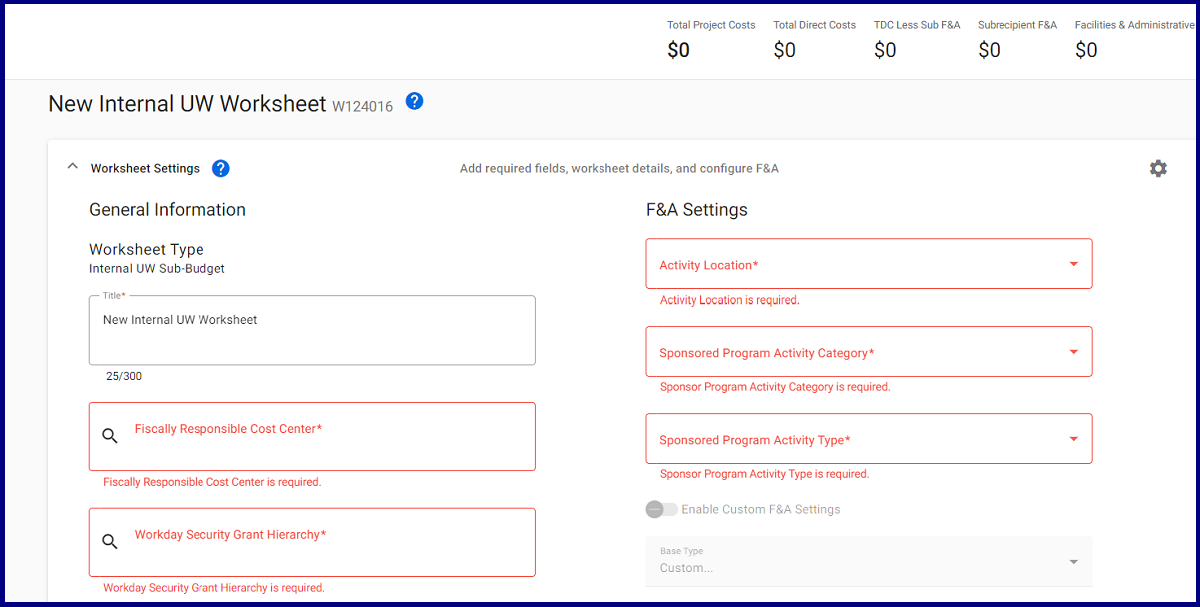 Miscellaneous Maintenance

eGC1 status now changes from "Approved" to "Awarded" when an award is set up in Workday and marked as "Processed" in SAGE.
Modification start and end dates now display for schedule changes.
Accessibility and readability improvements including table spacing, font size, and capitalization updates.
Various bug fixes.

Temporary Change: Advance Tasklist "Processed" Filter Deactivated

Due to performance issues, we have temporarily deactivated the "Processed" status filter on the Advance Tasklist. While we work on improvements, this temporary solution will protect system performance and mitigate risk. In the meantime, if you need to locate a processed advance, please use Advanced Search and search by either the Advance number or the eGC1 number to find your item.
For a list of recent SAGE feature releases and fixes, visit SAGE Prioritized Issues & New Features. If you have any questions or encounter issues, please reach out to sagehelp@uw.edu. Thank you for your continued support and patience.
The Office of Research Information Services (ORIS)