UW Research
July 10, 2019
Search Alpha is Here!

The MyResearch search feature allows you to search across the entire MyResearch portal by eCG1 number, budget number, principal investigator name and more. Quickly find an application, award, non-award agreement or training transcript for yourself, your research team or your collaborators. Researchers, research administrators and others can now use this high-demand feature to accelerate their work with MyResearch.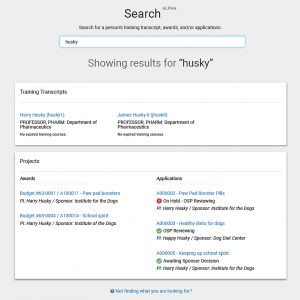 We couldn't wait to release this exciting new capability to you, so we have released the search feature in Alpha phase. This means we are still testing this feature so you may experience some unexpected behavior. We invite you to try out Search Alpha and let us know what you think! We are iterating quickly in response to feedback. Please tell us about your experience via the "Not Finding What You're Looking For?" link in MyResearch or contact us at myresearch@uw.edu.