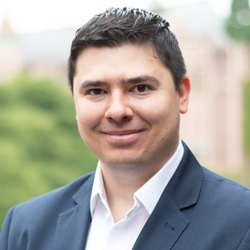 Mike Teodorescu
Assistant Professor
The Information School
miketeod@uw.edu
Teodorescu Faculty page
What is your Research Focus?

Assistant Professor Mike Teodorescu from the Information School is working on topics in information systems, innovation policy, applications of machine learning to strategy, and the ethics of machine learning in determining individual fates such as as employment and lending. His teaching interests include data science and entrepreneurship. His research is published in Financial Times 50 ranked journals such as Management Information Systems Quarterly, Strategic Entrepreneurship Journal, Research Policy, Journal of Business Ethics, in engineering and medical journals such as SAE Transactions Journal of Aerospace, Military Medicine, British Medical Journal Innovations (BMJI), and in refereed proceedings such as Academy of Management Best Paper Proceedings, IEEE High Performance Computing, and Academy of Information Systems ICIS (AIS – Association for Information Systems). He serves on the Strategic Management Journal Editorial Review Board and Special Issue on Digital Responsibility Editorial Board for Journal of the Association for Information Systems. He is a longstanding AOM, IEEE, and AEA member. Prior to UW he was a faculty member at Boston College and a Visiting Scholar at MIT D-Lab.
What opportunities at the UW excite you?
The University of Washington iSchool is a very collaborative environment where interdisciplinary research can thrive. The iSchool has computer scientists, human-computer-interaction researchers, philosophers, and management scholars, all under the same umbrella of the school, working together happily and doing impactful research. In the near future I look forward to learning more about other schools at UW and developing cross-school collaborations such as between the Information School and the Business School.