To log in to SPAERC, you must have an assigned ASTRA role. One of the OSP ASTRA administrators will assign you the appropriate role(s). There are several OSP roles available:
OSP Administrator is for staff in general
OSP Subcontracts is for OSP staff in the subcontracts group
OSP System Administrator has special authority and is limited to a small number of OSP staff.
SPAERC Read-Only is generally for central office staff outside of OSP who need to view applications and related items, and their attachments.
Log on to SPAERC
SPAERC is a web-based application. This means you can access it from your Internet browser.
Go to www.spaerc.washington.edu.
Enter your UW NetID and password on the UW NetID weblogin page
When you log on for the first time, you will see the default Application tasklist page with a list of items. See the Establish a Default Tasklist section for information on setting your own default choices.
Session Time Outs
Session time outs occur when there is no activity for a specific period of time. That amount of time varies depending on the session type. As long as you are working in a particular system regularly during the day, you can avoid the time outs.
Web Login Session
The Web Login page gives you access to a variety of UW systems. You go through this step to access SPAERC which verifies your ASTRA authority to use it. Although the text on this page says the login is good for eight hours, we have modified it specifically for the SAGE Suite to be 9.25 hours. This keeps you from hitting a logout late in your workday. However, if your entire SPAERC session is inactive for more than an hour, you will be logged out.
After an hour, if you try to do something in a timed-out session, in Microsoft's Internet Explorer browser you will see the following page.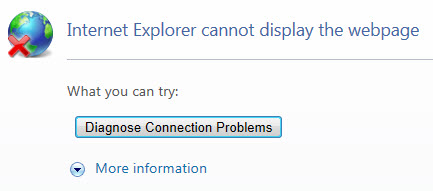 The URL will still be an address for a SPAERC page, such as: https://ucs.admin.washington.edu/era/uwnetid/spaerc/spaerclist.aspx
To continue your session, click on the URL and press the Enter key to re-enter SPAERC. Depending on how old your Web login session is, the system may ask you to re-enter your password.
Also be aware that if you are accessing multiple systems in the same browser session, such as SPAERC and GrantTracker, if one or the other times out due to inactivity, it will affect both systems. So you may want to use different browsers for each system to avoid this.
Item Session
Each time you open an item (application, admin action, etc.) SPAERC starts an item session clock. If that session is inactive for more than 45 minutes, it will time out. When you try to do something with the item, your default tasklist will display.
Token-Based Session
If you access a SPAERC Administration Tool or another system where you must use your Entrust token and the session is inactive for more than 30 minutes, it will time out. We recommend that if you are using a system other than SPAERC, you access it with a different browser so that the token time out does not affect your SPAERC session.
You can also clear the on-going request to enter a token number by closing the browser completely and re-opening it, then re-logging into SPAERC.