'98 National Ambassadors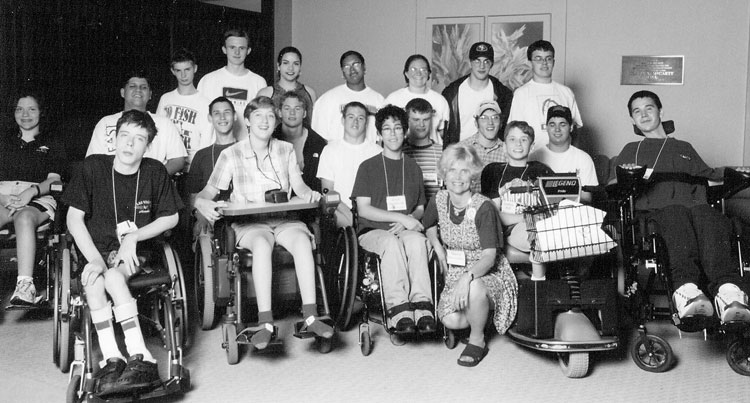 The following Ambassadors began participating in DO-IT in 1998. They continue to pursue college and career goals and encourage younger Scholars and Ambassadors.
On a two-year mission for his church; will return to the University of Idaho for a degree in physics.
Cerebral Palsy
Attends Valencia Community College.
Cerebral Palsy
Working part-time. Interests include biology, education, science, math, and animals.
Cerebral Palsy
Pursuing an Associates degree in Wilderness Recreation Leadership at North Country Community College. Wants work in a company that specializes in getting people with disabilities into the wilderness.
Cerebral Palsy
Graduated from secretarial school through Courage Center in Golden Valley. Writing a novel in spare time.
Learning disability
Attends the Florida Institute of Technology (FIT), studying chemical engineering.
Cerebral Palsy
Attends the University of Washington, hoping to major in a technical field and minor in business.
Attends South Puget Sound Community College, majoring in accounting.
Dyslexia
Attends Santa Fe Community College.
Vision impairment
Attended the Indiana School for the Blind and the University of Notre Dame with majors in economics and computer applications.
Congenital stationary night blindness and some motor deficiencies
Graduated from Grinnell College with a Bachelor's Degree.
Ataxia Telangiectasia
Graduated from Middlesex Community College and from Northeastern University with a Bachelor's Degree in Biology and Geology.
Quadriplegia
Attending the University of Alaska. Has strong interests in computers and science.
Attends the University of Nebraska, majoring in Management and Information Systems, minoring in Computer Science.
Deaf
Attending the University of Montana, majoring in psychology. Would like to be a neuropsychologist.
Cerebral Palsy
Graduated from Arizona State University with a Bachelor's Degree in Political Science Magna Cum Laude. Pursuing a law degree in San Francisco, CA.
Cerebral Palsy and a learning disability
A senior as part of the Nitze Scholars Program at St. Mary's College of Maryland. Has interests in biology, chemistry, and physics.
Ronald "Hank", '98 Scholar
Blindness
Graduated from Shadle Park High School. Hopes to attend computer or radio broadcasting college.
Dyslexia
A senior at Ball State University, majoring in Physical Education with an emphasis in elementary education.
Spinocerebellar Degeneration
A senior at Pacific University, majoring in teaching.