Overview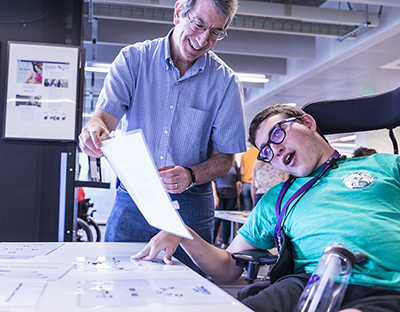 AccessISL supports efforts to develop a capacity building model for making informal STEM learning (ISL) opportunities more welcoming and accessible to individuals with disabilities. The project will prepare the University of Washington for the submission of a larger accessible ISL grant as collaborators develop and test model interventions, more fully develop replication steps, and gain insights from both people with disabilities and practitioners. All stakeholders are encouraged to join this effort.
Join the Community of Practice
Participate in discussions and learn of opportunities to promote the increased participation of people with disabilities in informal science education offerings, training programs, and careers.
NEW!Creating Inclusive Learning Opportunities in Higher Education: A Universal Design Toolkit
Order this must-have book that has how-to instructions for applying UD to everything we do in higher education, and complements the 2015 book Universal Design in Higher Education: From Principles to Practice. Learn more in this podcast episode of Trending in Education.
Read Equal Access: Universal Design of Informal Learning
A checklist for making informal learning welcoming, accessible, and usable.
Apply 20 Tips For Teaching an Accessible Online Course
Use a checklist, watch a video, and/or complete a NEW! tutorial to begin making an online course accessible, usable, and inclusive.
Apply Facilitating Accessibility Reviews of Informal Science Education Facilities and Programs
A resource to help you develop your own accessibility review of informal science education facilities and programs.
Watch the Video Quality Education Is Accessible
Students with a variety of disabilities share strategies for making instruction more accessible to them.
Read "The Development of Accessibility Recommendations for Online Learning Researchers"
Find suggestions, tips, and tools for accessibility within online learning research.
Explore the Knowledge Base for answers to specific questions and evidence-based practices.
Learn More about the AccessISL Project
Read about project goals, objectives, activities, leadership, and sponsorship.