The DO-IT Scholars Program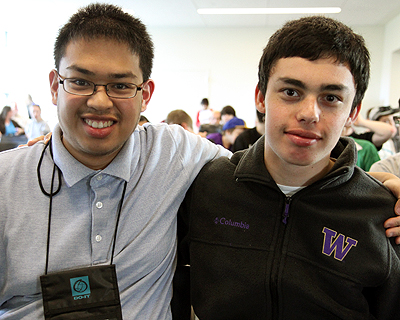 Program Summary
DO-IT Scholars is a comprehensive program that empowers students with disabilities to succeed in challenging fields of study and employment. Toward this goal, the program provides students:
access to technology,
peer support,
mentor support,
college preparation, and
work-based learning.
Through these activities, DO-IT Scholars form a community that faces challenges together, from high school to college and work. Since the program's beginning in 1993, almost 600 Scholars have taken part.
The foundational event for Scholars is Summer Study, held each year in July on the University of Washington campus. Students learn how to navigate a large campus, live in a dormitory, and ask for accommodations. Summer Study also provides opportunities for Scholars to talk to university faculty, employers, and organizations around Seattle, helping to boost their confidence and providing valuable contacts for future academic and career success.
Throughout the school year, Scholars make connections with program staff, DO-IT Mentors, and each other using email and e-lists. They also meet in-person at DO-IT events, complete individual and group projects, and receive valuable information and support for the transition to college.
Most Scholars begin the program in their sophomore year of high school.  
Program Timeline
Phase 1
From date of acceptance through August 31st of first year:
Each Scholar is provided with a laptop and any necessary assistive technology, and works with a DO-IT Technology Specialist on setup requirements. Scholars learn to use computers to explore academic and career interests and communicate with DO-IT Mentors. Scholars attend their first Summer Study session for two weeks in July.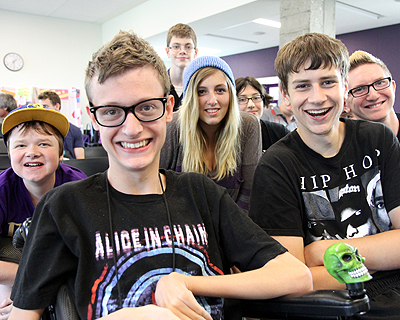 Phase 2 
From September 1st of first year through August 31st of second year:
Scholars receive information about college application procedures, entrance requirements, and additional resources to help them prepare for their transition to college. Scholars practice communication and leadership skills by acting as peer mentors for incoming Phase 1 Scholars. They also return to the UW campus for the second week of Summer Study, where they create and complete projects of personal interest with other Scholars, faculty, and professionals. 
Phase 3 
Beginning September 1st of second year:
Scholars participate in e-mentoring and other DO-IT activities. Some become Interns at Summer Study and participate in other work-based activities. After graduation from high school, DO-IT Scholars have the option of becoming a DO-IT Ambassador to share college experiences with younger Scholars, set an example, and participate in projects or conferences that help spread the word about the importance of accessible education, assistive technology, and empowering students with disabilities.  
Find Out More
The following resources are available in PDF and may be distributed by high school administrators, teachers, and counselors.
DO-IT Scholars brochure
Program information, frequently asked questions, and details about the application process.
DO-IT Scholars Program Application
Washington high school students with disabilities are encouraged to apply.
Guidelines for DO-IT Scholars and Ambassadors
Expectations of participants.
Assistive Technology Used by DO-IT Scholars
Technology that promotes independence, productivity, and participation.
Creating an E-Mentoring Community: How DO-IT does it, and how you can do it, too
A guide for setting up a mentoring community online where young people and their mentors share ideas that contribute to a successful transition to adult life.
Creating a Transition Program for Teens: How DO-IT does it, and how you can do it, too
This manual was developed to help you create summer study, work-based learning, and e-mentoring programs for youth.