'98 Washington Ambassadors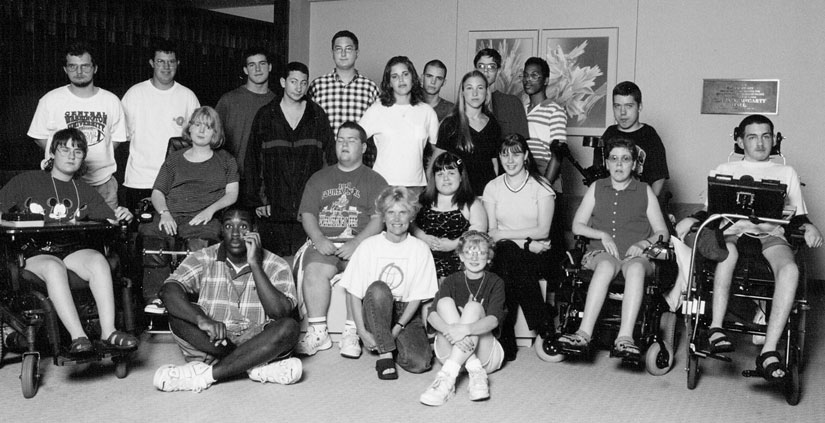 The following Ambassadors began participating in DO-IT in 1998. They continue to pursue college and career goals and encourage younger Scholars and Ambassadors.
Attends Cascadia Community College in Bothell, Washington, working toward an Associates Degree in Integrated Studies, combining political science, world history and cultural anthropology.
Graduated from Spokane Falls Community College in mechanical engineering.
Glaucoma
Attending the University of New Orleans, earning a degree in psychology.
Mobility impairment
Plans to either attend an institute of higher learning or seek gainful employment before continuing education.
Attention Deficit Disorder (ADD), Dyslexia, and Dysgraphia
Attending Muskingum College in Ohio.
Cerebral Palsy
Lives in Neenah, WI.
Cerebral Palsy
Attends Highline Community College, pursuing an administrative assistant degree with a business emphasis.
Visually impaired
Planing to attend a community college in the Portland area.
Dyslexia
Full-time mother and wife. Will soon be moving overseas with her husband, who is in the military.
Multiple learning disabilities and ADHD
Attends the University of Alberta, specializing in physics. Plans to study medicine.
Visual impairment
Graduated from LaConnor High School in Washington state. Would like to program or design video games.
Dyslexia and Attention Deficit Disorder (ADD)
Attends the University of Washington, pursuing a degree in engineering.
Attention Deficit Disorder (ADD)
Attends Edmonds Community College, studying music.
Attention Deficit Hyperactivity Disorder (ADHD) and a communication disorder
Planning to attend Olympic College to study integrated Multimedia. Likes to play guitar.
Scoliosis and Kyphosis with Metatrophic dwarfism, Dysplasia, and Condrodystrophy
Graduated from The Evergreen State College with a Bachelor's Degree in Theatre and English Literature. Seeking a teaching position in Milano, Italia.
Tourette's, ADD, and panic disorder
Currently working as a carpenter but planning to attend college. Intern at Summer Study 2004.
Visual impairment
Lives in Edmonds with his parents, sister, and brother. Hopes to major in music.