Overview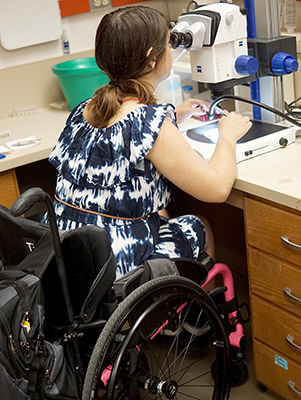 AccessINCLUDES, funded by the National Science Foundation (NSF), links to the NSF INCLUDES Network by sharing knowledge and results from other NSF disability-focused projects and their network organizations in order to make the INCLUDES Network better prepared to
address disability-related issues in their research (e.g., design interventions to be accessible; recruit, support, and report outcomes for participants with disabilities);
make meetings, trainings, courses, and other project activities welcoming and accessible to individuals with disabilities;
design project resources and products to be accessible to individuals with disabilities; and
develop durable, new collaborations between multiple stakeholders and organizations that lead to future innovative projects and resources that are inclusive of individuals with disabilities.
NEW!Creating Inclusive Learning Opportunities in Higher Education: A Universal Design Toolkit
Order this must-have book that has how-to instructions for applying UD to everything we do in higher education, and complements the 2015 book Universal Design in Higher Education: From Principles to Practice. Learn more in this podcast episode of Trending in Education.
Apply 20 Tips For Teaching an Accessible Online Course
Use a checklist, watch a video, and/or complete a NEW! tutorial to begin making an online course accessible, usable, and inclusive.
Join our Community of Practice (CoP)
Broadening Participation CoP members share common interests and help each other improve practices surrounding inclusion, accessibility, and people with disabilities.
Read Proceedings from the 2019 AccessINCLUDES Conference and Learn More about our Conference
The Accessibility and Disability in the INCLUDES National Network Conference was held February 20-22, 2019. 
Learn more about Related Project, ERC-INCLUDES
ERC-INCLUDES promotes the engagement of people with disabilities in NSF-funded Engineering Research Centers (ERCs) and the development of ERC products, websites, facilities, and events that are welcoming and accessible to everyone.
Add Review Q&As, Promising Practices, and Case Studies
Explore the Knowledge Base for answers to specific questions and evidence-based practices.