'96 Ambassadors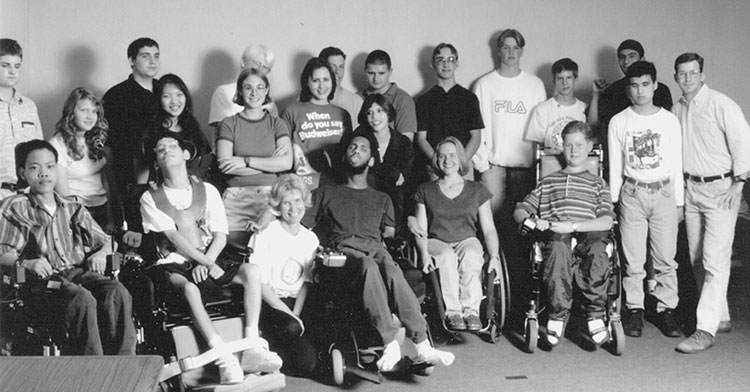 The following Ambassadors began participating in DO-IT as Scholars in 1996. They continue to pursue college and career goals and encourage younger DO-IT Scholars and Ambassadors.
Attention Deficit Disorder (ADD), Dyslexia, and Dysgraphia
Graduated from Eastern Washington University with a Bachelor's degree. Majored in microbiology and minored in computer science and chemistry. Working as a molecular microbiologist for Midwest Research Institute in Florida.
Paraplegia
Graduated with a Bachelor's degree in molecular and cellular biology from the University of Arizona. Attending medical school at Stanford University with a goal to practice rehabilitation medicine and continue work on international disability rights issues. Married.
Brain tumor
Attended Eastern Connecticut State University and was majoring in computer science with plans to pursue a career in computer programming.
Albinism and low vision
Attended Eastern Oregon State College.
Hearing impairment
Attended Minnesota State University Moorhead majoring in graphic communications with an emphasis in multimedia design. Co-author of several books and articles.
Hearing impairment
Attended Western Oregon University, majoring in public policy and administration. Working for the Oregon Department of Justice and Benton County Sheriff's Office. Interested in the Peace Corps.
Deaf
Attended the National Technical Institute for the Deaf and aspires to be a veterinarian, doctor, or marine biologist.
Attention Deficit Disorder
Attended Pacific Lutheran University.
Cerebral Palsy
Attended San Diego State University, studying political science and interior design with an interest in designing accessible homes.
Diabetes
Earned a Bachelor's degree in English and art from Augustana College and a Master's degree in teaching from City University. Recently returned to Washington State to pursue a career as a teacher. Currently works for Catholic Community Services with at-risk youth and families.
Cerebral Palsy
Earned a Doctoral degree in genetics and molecular biology from Iowa State University. Began a post-doctoral fellowship in exercise physiology this fall.
Larsen Syndrome
Enrolled in a Master's program in city and regional planning at the University of California-Berkeley.
Blind
Graduated from the University of Nebraska-Lincoln with a Bachelor's degree in computer science and is now production manager for TecAccess LLC, an accessibility consulting firm that specializes in software and web accessibility.
Cerebral Palsy
Attended Community College of Allegheny County in Pittsburgh, PA.
Attention Deficit Disorder (ADD), learning disability
Completed an Associate's degree. Attends a university in a graphic design program. Works as a freelance deco designer for clubs.
Muscular Dystrophy
Earned an Associate's degree in horticulture science from Hawkeye Community College. Owns a nursery and garden shop, specializing in water gardens and hostas and does landscape design as well as freelance web design.