'97 Ambassadors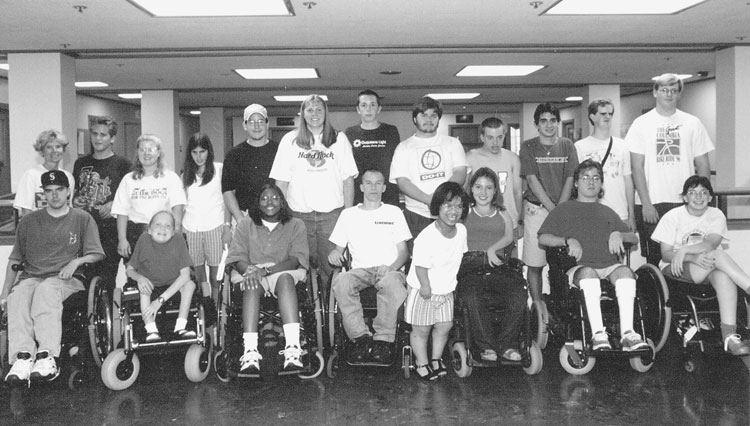 The following Ambassadors began participating in DO-IT as Scholars in 1997. They continue to pursue college and career goals and encourage younger DO-IT Scholars and Ambassadors.
Mobility impairment
Attended the Rochester Institute of Technology to study physics.
Paraplegia
Graduated with honors from the University of Great Falls with a major in communications and a minor in computer systems integration. Works as a freelance writer.
Blind
Graduated with a Bachelor's degree from the University of North Dakota. Owns a health and wellness business.
Achondroplasia
Graduated from the University of Washington with a Bachelor's degree in economics. Currently working at NOAA Fisheries Science Center.
Epilepsy
Attended Bellevue Community College and working at Target as a customer service helper.
Paraplegia
Currently a senior at Northern Arizona University studying business management. Working at Pima Community College as a business mathematics tutor.
Earned an Associate's degree in design drafting and a mechanical design certificate from Green River Community College; working towards an architectural and civil drafting degree.
Blind
Attended St. Pete Junior College.
Spina Bifida with Upper Motor Neuron Dysfunction
Graduated with a Ph.D. from the University of Denver's Graduate School of International Studies in political theory and international politics.
Profoundly deaf
Graduated from the University of Connecticut with English and publishing degrees. Pursuing a career in editing.
Dyslexia
Sales manager at Verizon Wireless. Married.
Attended Mississippi State University, majoring in accounting.
Severe hearing loss
Graduated from University of New Haven with a Master's degree in business administration and University of Connecticut as an economics major. Currently working as a manager for a family business in Connecticut. Looking forward to a new career in investment banking.
Ischemic spinal cord injury
Completed a Bachelor's degree in physics and philosophy at Hendrix College; pursuing graduate studies in physics at the University of Arkansas.
Blind
Attended University of Utah and was pursuing a career in engineering when he died in 2001 after a battle with cancer.
Graduated from Harvard in 2003. Working as a legislative staffer in the United States Senate and attending Georgetown University Law Center.
Graduated from Portland State University (PSU) with a Bachelor's degree in social sciences and teaching credentials to teach students with visual impairments. Currently teaches at the Utah School for the Blind and is pursuing a Master's degree in special education at PSU.