2013 Scholars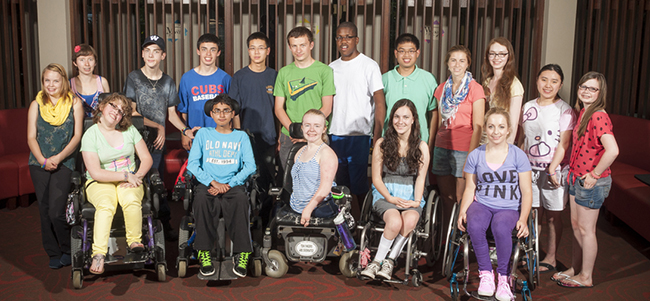 Cerebral palsy
Attends Walla Walla Community College. Wants to pursue a career as a pastor or a counselor. Will go to seminary after finishing community college.
Spastic hemiplegic cerebral palsy
Completing undergraduate studies at the University of Washington studying sociology and American ethnic studies. Following his passion about achieving equity and liberation for disabled people and folks of all marginalized identities.
Learning disability
Attending Prescott College in Arizona to finish an undergraduate degree in sustainable community development. Goes commercial fishing in Bristol Bay Alaska during the summer. Hopes to continue into the sustainable food systems master's program and hopes to contribute to society and the environment in a positive way. Loves baking, hiking, and eating food with friends.
Cerebral palsy, left-sided hemiplegia.
Graduated from the Foster School of Business at the University of Washington with a bachelor's degree in finance and a certificate of international studies in business. After working for a few years, plans to get a master's degree in either finance or business law. Wants to work for an international corporation that operates in either Japan or Indonesia.
Blind
A junior at University of Washington pursuing a bachelor's degree in comparative history of ideas with a minor in Spanish. Works for Rooted in Rights at Disability Rights Washington focusing on accessible videos that advocate for disability rights. Edits videos, writes scripts, audio describes, and makes media. In 2021, became a board member of the DREAM (Disability Rights, Education, Activism, and Mentoring) program working to create mentorship between disabled college students around the country. Returned as an Ambassador during Summer Study 2021.
Asperger syndrome
Graduated from the University of Washington (UW) with majors in law, societies, and justice and political science and a minor in disability studies. Attending UW School of Law in fall 2021. Recipient of the Husky 100 in 2018, an award given to 100 students across all three of UW's campuses for making the most of their time at UW. Played piccolo as a member of the Husky Marching Band. Recipient of the "Most Spirited Bandsman" award for the 2017 football season, and was one of three former band members who ran the siren at the Husky football games the following football season. Joined the Maple Leaf Community Council as a member of the Executive Board in late September 2020, and currently oversees the community council's newsletter, released three times a year to the Maple Leaf neighborhood of Seattle.
Speech-based learning disability
Graduated from the University of North Dakota with a bachelor's degree in unmanned aerial systems (UAS) and operation. Has been taking flying lessons to get a pilot license. Wants to become a UAS operator and work for Air Shepherd, founded by the Lindberg Foundation, to fight poachers in Africa.
Stargardt's disease
Graduated with a major in computer science and minors in physics and math from the University of Washington (UW). Was a part of the Interdisciplinary Honors Program. Studied in Paris. Played piccolo in the UW Marching Band and has traveled both nationally and internationally through music. Awarded the UW President's Medal for the 2015-2016 academic year and the Arts and Sciences Dean's Medal in 2019. Currently works for Facebook as a software engineer.
Traumatic brain injury
Graduated from Washington State University. Enjoys attending Coug and Dawg events. Go Cougs!
Amelia (congenital amputation), migraines
Graduated cum laude from the University of Washington (UW) with honors. Double majored in law, societies, and justice and disability studies, and was a member of both the Interdisciplinary Honors Program and the Phi Beta Kappa honor society. Plans on attending law school to become a disability rights lawyer and then working up the political ladder to become president. Works as an administrative assistant for both the Management and Organization Department and the Marketing and International Business Department of the UW Foster School of Business.
Nonverbal learning disorder, dyscalculia, attention deficit disorder
Attended Green River Community College, taking courses to get an associate in applied science in early childhood education with a certificate in Montessori teaching. Works a part-time job as a beauty advisor at Walgreens on weekends. Learning Swedish and American Sign Language in spare time.
Arthrogryposis
Graduated from DeVry University with a bachelor's degree in business and a master's in business administration. Earned a high school diploma and an associate degree through Running Start. Is a resident athlete at the Olympic Training Center in Colorado Springs and a member of the National Paralympic Shooting Team. Won a medal for the United States (US) at the 2016 Games in Rio de Janeiro and is representing the US at the 2021 Games in Tokyo.
Autism
Studying to become a dietitian or nutritionist. Attending Edmonds Community College before transferring to the University of Washington Seattle campus. Works at a Spanish restaurant part-time. Attended the PEERS Program at the Seattle Clinic to increase communication skills. A member of Toastmasters to improve public speaking skills.
Cerebral palsy
Attends Brigham Young University Idaho. Wants to study English or social work. Started a personal blog about daily life and other topics. 
Cerebral palsy
Graduated in 2018 from the University of Washington. Enjoys working as a virtual patient companion with CHI Franciscan Health helping vulnerable patients stay safe during their hospital stay. Has a certification in medical coding and is excited to start her career. Enjoys working out and spending time with her puppy.
Duchenne muscular dystrophy
Graduated from the University of Washington Bothell majoring in computer science and software engineering and currently working on his master's thesis in computer science. Worked as a game development intern at the Digital Future Lab. Also completed an internship with Microsoft.
Asperger syndrome
Attended Eastern Washington University and plans to transfer to Spokane Community College to study computer science, mathematics, and engineering. Enjoys designing and building complicated machinery in Minecraft.