2012 Scholars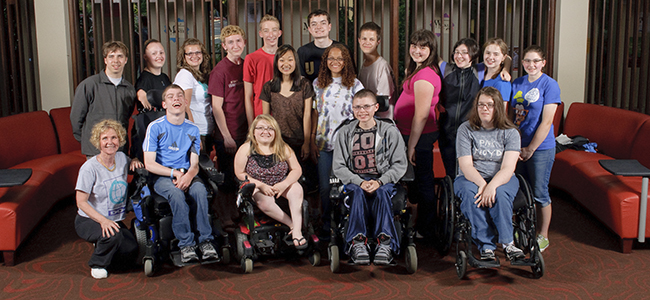 Learning disability, dyslexia, attention deficit disorder.
Attends Washington State University and is majoring in biomedical engineering.
Legally blind in right eye
Graduated this year from Central Washington University with a degree business administration management. Works as an accounting specialist at Boise Cascade, Building Materials Distribution Center in Woodinville.
Autism
Attends the University of Washington (UW), majoring in atmospheric sciences with a focus on meteorology and climatology. Member of Students Expressing Environmental Dedication and the Residential Community Student Association at UW. Wishes to pursue a career in weather forecasting or atmospheric modeling. Interned for the National Oceanic and Atmospheric Administration in Boulder, Colorado during the summer of 2017 and returned there for the summer of 2018. Volunteers for the National Weather Service and is part of the DO-IT ATeam.
Spastic cerebral palsy
Would like to work in the field of broadcasting and communications, and is taking computer classes to learn about new software. Then plans to take broadcasting classes online. Enjoys making slide shows of famous people; they're on YouTube under the user name Jenn Bress. Plays power wheelchair soccer on the Rolling Thunder. Also likes reading, creative writing, and technology.
Deaf
Attending Gallaudet University to get a degree in elementary teaching and deaf education. Played softball and was a member of the Monroe High School Bearcats bowling team. Competed in the Miss Teen Washington Pageant and made it to the top. Loves dogs, especially American Eskimo huskies!
Goldenhar syndrome, a hearing impairment
Attending the University of Washington and planning to major in speech and hearing sciences. Hopes to become a pediatric audiologist. Completed an internship at the Center for Sensorimotor Neural Engineering (CSNE) during the summer of 2015. Enjoys skiing, wakeboarding, and participated on high school's soccer and golf teams. Was also the captain of the high school swim team
Cerebral palsy
Graduated from Tacoma Community College this past spring. Starts working on a bachelor's degree in communications at the University Washington, Tacoma in the fall. Spends free time using the computer and playing games. Played power soccer from 2006 until the spring of 2018
Autism, attention deficit hyperactivity disorder
Graduated from Pacific University with degrees in creative writing and German. Enjoys literature and art. Studied abroad in Germany.
Unspecified learning disability and attention deficit disorder
Plans to return to Everett Community College for a graphics design degree. Interested in film and psychology.
Becker's muscular dystrophy
Recently earned enough credits for an associate degree. Volunteered as a tutor for students learning Spanish and English. Hopes to continue volunteering and possibly open up more opportunities to become a translator or language teacher.
Cerebral palsy
Attends Western Oregon University majoring in American Sign Language (ASL) interpretation and minoring in theatre. Has a passion for acting. Takes acting classes and is a part of many productions. Hopes to become an ASL interpreter and an actor.
Spinal muscular atrophy
Graduated from the University of Washington with a bachelor of science in biology. Plans to eventually go to graduate school and pursue a career in biomedical research or healthcare. Currently working as a research assistant at the Seattle Cancer Care Alliance, using patient's medical records to determine when a patient goes into remission. Participated in Link Crew, National Honor Society, and Key Club in high school. Was also the founding president of Glacier Peak High School's chapter of the National Spanish Honor Society. Organized and ran Glacier Peak High School's first muscular dystrophy fundraiser.
SED/Kniest Syndrome
Hobbies include graphic and web design, photography, camping, cooking, shopping, and being with family and friends.
Thrombocytopenia-absent radius syndrome
Recently graduated from Skagit Valley Community College with an associate degree in biology. Currently attending Western Washington University to study environmental science. Enjoys camping and hiking, basically anything and everything outdoors. Also enjoys doing crafts and other artsy things and bingeing on the newest Netflix show.
Deaf
Graduated from the University of Washington in June 2018 with a medical anthropology and global health degree. Enjoyed taking interesting classes and studying the anthropology and culture of cuisine and food production in Rome, Italy. Works as a program assistant in the DO-IT office. Volunteers at Seattle Children's Hospital.
Arthrogryposis
Majoring in political science at McDaniel College in Maryland and hopes to become a political campaign manager for local campaigns. Enjoys trying new foods and spending time with friends.
Deaf
Studying mechanical engineering at the Rochester Institute of Technology (RIT) in New York. Hopes to work in the aerospace and environment fields after graduation, and potentially help design engines that can run on renewable energy. Loved being involved in and giving back to the community through various organizations at RIT.