2011 Scholars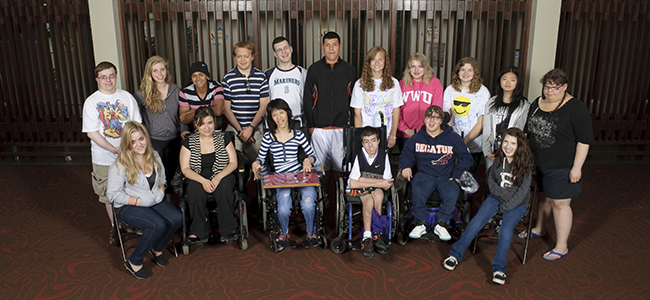 Attention deficit hyperactivity disorder Graduated from Everett Community College with a degree in humanities.
Dysgraphia, attention deficit hyperactivity disorder
Attended Gonzaga University. Interested fields in design, communications, and psychology. Trains dogs for Guide Dogs for the Blind.
Cerebral palsy
Pursuing a degree at Western Governors University in accounting.
Cerebral palsy with mixed presentations of athetosis and spasticity
Pursuing a degree in social work at the University of Washington to become a transition specialist for students with disabilities.
Learning disability
Attended Edmonds Community College. Works at Winco Foods as a lead clerk. Plays on a soccer team.
Arthrogryposis
Attends Eastern Washington University. Would like to be a forensic psychologist.
Visual impairment, attention deficit hyperactivity disorder
Graduated from Highline High School. Considering a career as a police officer or a chemical engineer.
Asperger syndrome
Currently pursuing a master's degree in library and information science. Worked as a collections intern at the Issaquah Historical Society and the Sammamish Heritage Society during the summer of 2018. Was chosen as an alternate delegate for the 2018 Washington State Democratic Convention.
Spina bifida
Graduated from Eastmont High School. Volunteers with United Way.
Blind
Attends Gonzaga University studying engineering management with a focus on mechancial engineering. Hopes to work as a mechanical engineer to develop new ways for people with disabilities to work out in a gym with minimal adaptations.
Deaf
Graduated with a degree in English from the University of Washington. Studied abroad Summer of 2016 in London. Works as a teaching assistant at Northwest School for Deaf and Hard of Hearing Children. Volunteers at Seattle Children's Hospital.
Arthrogryposis
Attended Bellevue College and now attends Arizona State online.
Cerebral palsy
Graduated with a master of social work and a bachelor's degree in psychology from the University of Washington. Wants to work with kids with disabilities.
Deaf
Works as a pastry chef at Rylie Cakes, a gluten free bakery. Hopes to one day open a cake business called Kakes by Kaylie.
Deaf
Graduated from the University of Washington in 2017 with a degree in informatics and a minor in diversity. Studied abroad in London in 2014 and in South Korea in 2016. Passionate about art, technology, and media for social impact. Hopes to attend graduate school to study human-computer interaction.
Hearing impairment, fine motor weakness, flat feet
Graduated from the University of Washington Bothell.