'00 Ambassadors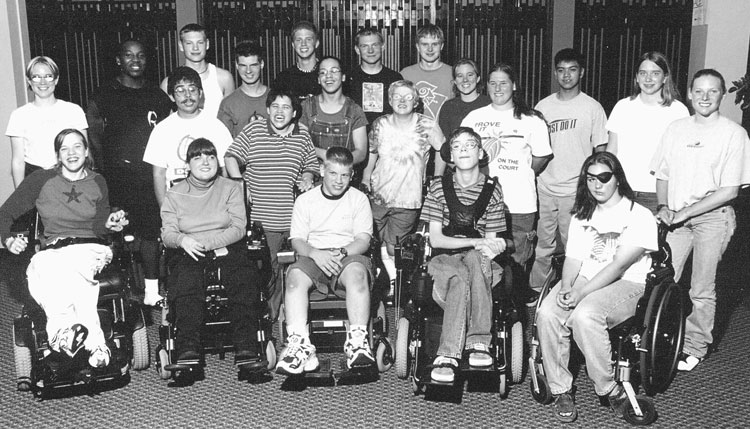 The following Ambassadors began participating in DO-IT as Scholars in 2000. They continue to pursue college and career goals and encourage younger DO-IT Scholars and Ambassadors.
Hearing impairment
Attending the National Technical Institute for the Deaf at the Rochester Institute of Technology (RIT).
Cerebral Palsy
Senior at the University of Washington, majoring in political science. Completed two interships at the Department of Defense.
Cerebral Palsy
Attending Eastern Oregon University majoring in education.
Blind
Attending Wenatchee Valley College. Planning to transfer to Washington State University and major in computer programming.
Mild Static Encephalopathy and Patella Femoral Syndrome
Attends the University of Washington, with plans to graduate in 2007 with a degree in political science.
Learning disability
Attending the University of Oklahoma and majoring in political science and economics with honors distinction.
Cerebral Palsy
Received Dental Assistant certificate in February 2006. Now working at a dental office in Bainbridge Island, WA.
Graduated with a Bachelor's degree in architectural studies. I was an intern at Summer Study 2004.
Cerebral Palsy
Working as People First Coordinator at the ARC of Snohomish County.
Learning disability
Attends Washington State University and is one year away from receiving degree in political science.
Cerebral Palsy
Graduated from the University of Washington with a degree in communications and minor in disability studies. Will attend graduate school at Gonzaga University.
Aphasia
Attending Central Washington University.
Stephanie M., '00 Scholar
Visual impairment
Attends Eastern Washington University. Interested in a career in vocational rehabilitation for persons who are visually impaired. Works for the Bridge program.
Cerebral Palsy
Attends North Seattle Community College in the culinary arts school.
Dyslexia
Graduated from Edmonds Cyber-school and attended Landmark College in Putney, VT. Has been the Director of Photography on several short films and programs. Is a Scout Master in Edmonds, WA.
Cerebral Palsy
Currently a sophomore at Heritage University located in Toppenish, WA majoring in computer programming and web design.
Hearing impairment
Attending Eastern Washington University with a major in social work and a minor in alcohol and drug studies. Married and has one son.
Bilateral profound hearing loss
Attends Central Washington University and is a volunteer firefighter.