'99 Ambassadors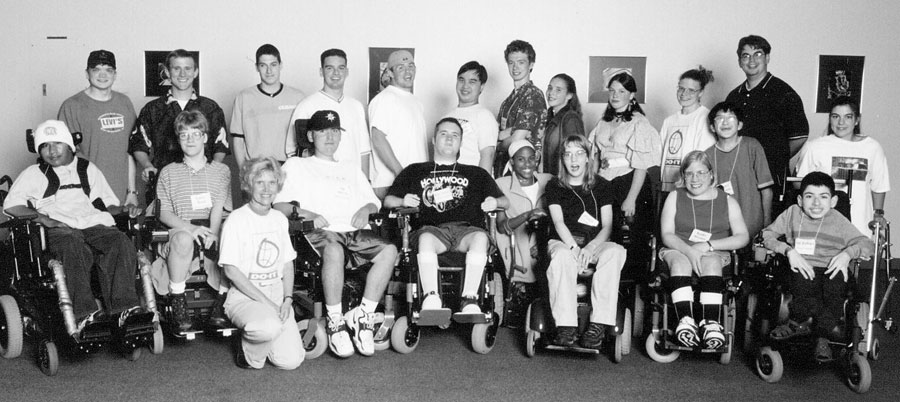 The following Ambassadors began participating in DO-IT as Scholars in 1999. They continue to pursue college and career goals and encourage younger DO-IT Scholars and Ambassadors.
Duchenne Muscular Dystrophy Attended Central Washington University majoring in computer science and minoring in math.
Speech and learning disabilities
Attended Central Washington University to study criminal justice.
Spina Bifida, Attention Deficit Disorder (ADD)
Attended Tacoma Community College; majored in accounting and worked in the Admissions office.
Mobility and speech impairments
Graduated from Central Washington University with a Bachelor's degree in English and a minor in creative writing.
Attended Seattle Central Community College.
Quadriplegia
Attended Yakima Community College.
Muscular Dystrophy
Graduated from Big Bend Community College and was interested in a career in computer-aided design or video game programming. Passed away in March, 2005.
Deaf
Graduated with a degree in physical education from Western Oregon University. Pursuing a Master's degree in deaf education at Western Oregon University; planning to work in coaching, teaching, and administration.
Learning disability
Earned a PC specialist Associate's degree from Spokane Falls Community College in WA. Currently working at Numerica Credit Union.
Learning disability
Earned an Associate's degree from Gray's Harbor Community College.
Freeman-Sheldon Syndrome
Attended Seattle Central Community College, majoring in web design. Currently completing an Associate's degree and planning to transfer to a four-year college.
Larsen Syndrome
Double amputee, with two artificial legs
Attends the University of Washington as a senior, pursuing a degree in European studies and a minor in political science. Works at the UW Access Technology Lab.
Cerebral Palsy and learning disabilities
Attends Shoreline Community College, WA; would like to run a social club for people with physical disabilities.
Visual impairment
Graduated from the University of Portland with a degree in political science and philosophy. Participates in a variety of volunteer opportunities in Uganda and Africa and attends graduate school.
Learning disability
Attended Skagit Valley College.
Cerebral Palsy
Received Bachelor's degree in education from Eastern Washington University. Currently employed as a summer school teacher in the Lind School District, teaching kindergarten and first grade.
Spina Bifida
Attending The Evergreen State College in Tacoma and completing a Bachelor's degree in liberal arts. Studying to become a child life specialist. Working at Langston-Hughes program for youth.
Osteogenesis Imperfecta
Attended Edmonds Community College. Planning to transfer to the University of Washington to study computer engineering.