Resources For Making Distance Learning Accessible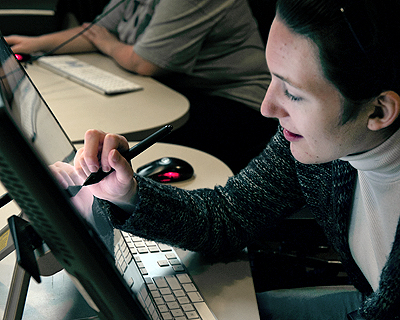 Publications, Tutorials, and Video Presentations
20 Tips for Teaching an Accessible Online Course
A video and publication on how to use the best methods for teaching an online course that is accessible and welcoming to everyone.
Accessible Cyberlearning: A Community Report of the Current State and Recommendations for the Future
This paper serves to inform the design of current and future learning technologies and pedagogy to be inclusive of everyone.
Accessible Distance Learning Pamphlet
A summary of key issues with respect to accessible online learning.
Accessibility, Mobility, and Design
A conversation about the meaning of mobility and the role of design as a process that can cultivate a culture of accessibility that goes beyond accommodations.
Accessibility and Universal Design of Online Meetings
A publication that shares tips for hosting accessible online meetings using software and other tools.
Accessibility Testing of Web Applications
A description of web accessibility principles, statistics, and how to evaluate and test a website to ensure it meets the correct standards.
Checklist for Powerpoint Presentations
Learn how to create accessible slides so all can access your presentation.
NEW! Creating Inclusive Learning Opportunities in Higher Education: A Universal Design Toolkit
Order this must-have book that has how-to instructions for applying UD to everything we do in higher education, and complements the 2015 book Universal Design in Higher Education: From Principles to Practice.
Designing an Accessible Online Course
A resource of the Southwest ADA Center Regional Affiliate - Arkansas, a project of the University of Arkansas.
Designing Accessible Online Courses
University of Washington suggestions for instructors on designing an accessible online course.
Disability-Related Videos
Multiple video collections that share personal stories of individuals with disabilities and universal and other inclusive design strategies that make the world more inclusive of people with disabilities. 
Equal Access: Universal Design of Distance Learning Programs
A checklist for operating a program that ensures the accessibility of all courses.
Equity Matters 2016: Digital & Online Learning for Students with Disabilities
This publication focuses on promising practices for addressing the needs of students with disabilities in full-time virtual, blended, and supplemental online settings, as well as summarizes policies related to students with disabilities, research on students with disabilities in online settings, the shifting roles of parents and teachers in K-12 virtual education, and state educational agency responsibilities. 
Guidelines for Print
The American Printing House for the Blind shares tips for making print materials more accessible.
Online Learning Strategies for Students with Disabilities
DO-IT participants share their experiences and recommendations for other students with disabilities who are taking online courses.
Real Connections: Making Distance Learning Accessible to Everyone
A video and a brochure with the basic guidelines for designing courses to fully include all students.
Universal Design in Higher Education: From Principles to Practice
A book edited by Sheryl Burgstahler with multiple practitioners showcasing how the application of universal design can create inclusive instruction, student services, physical spaces, and information technology.
Universal Design in Higher Education: Promising Practices
An online book edited by Sheryl Burgstahler with examples of how promising practices of universal design can be applied to create a more inclusive instruction, student services, physical spaces, and information technology.
World Wide Access: Accessible Web Design
DO-IT video and publication on how to make web pages accessible to people with disabilities.
Resource Centers
Accessibility Documentation from Learning Management System (LMS) Vendors
Accessibility of LMS products is constantly evolving, but several vendors provide documentation regarding their products' accessibility features and how to deliver accessible courses using their products. Some examples are provided below. Also, Access Technology Higher Education Network (ATHEN) has coordinated several active collaborations between higher education institutions and LMS vendors to help the latter improve their accessibility. These are listed on the ATHEN Collaboration Groups website.
Q&As, Promising Practices, and Case Studies
The AccessDL Knowledge Base features over 250 articles that explore and discuss how to make distance learning accessible. The DO-IT Knowledge Base as a whole contains over 800 articles on a wide variety of accessibility topics. To read featured articles, visit the AccessDL Featured Q&As, Promising Practicies, and Case Studies page.
Review Q&As, Promising Practices, and Case Studies
Explore the Knowledge Base for answers to specific questions and evidence-based case studies and practices
Research and Academic Papers
For a list of articles about the universal design of online learning, access DO-IT's Published Books and Articles About Universal Design in Higher Education (UDHE) page in The Center on Universal Design in Education (CUDE) and select "Universal Design of Online Learning."