In Memory of Jeffrey K.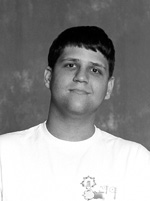 Jeffrey K., '98 Scholar
Jeffrey K. passed away on April 25, 2006. The Valedictorian of the Olathe East High School class of 1999, Jeff earned an Associate's degree from Middlesex Community College. He completed a Bachelor's degree from Northeastern University in both biology and geology. We will remember Jeffrey as a strong self-advocate, a serious and dedicated student, and an active participant in Boy Scouts of America and karate. We will miss Jeffrey K.