'99 Ambassadors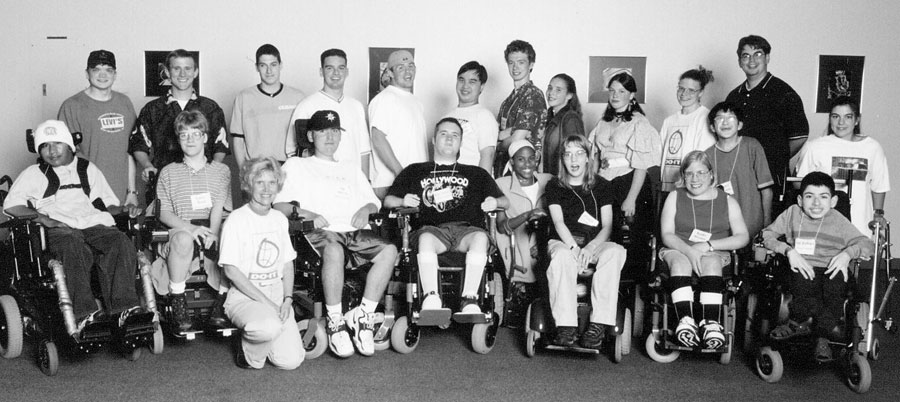 The following Ambassadors began participating in DO-IT in 1999. They continue to pursue college and career goals and encourage younger Scholars and Ambassadors.
Duchenne Muscular Dystrophy
Senior at a state university majoring in computer science and minoring in math.
Speech and learning disabilities
Attends a state university studying criminal justice.
Spina Bifida and ADD
Attends community college, majoring in accounting and working in the Admissions office.
Mobility and speech impairments
Graduated from a state university with a Bachelor of Arts degree in English and a minor in Creative Writing.
Attends community college.
Quadriplegia
Attends a community college.
Muscular Dystrophy
Attending community college, with plans to transfer to a four-year school.
Deaf
Completing senior year at college, majoring in physical education. Career interests include coaching, teaching, and administration.
Learning disability
Earned a PC specialist Associate of Arts and Sciences degree from community college. Currently working as assistant manager at Software, Etc, video game store.
Learning disability
Works part-time for Industrial Electric in the motor repair shop. Attends a state university, with a career goal to become a science teacher.
Freeman-Sheldon Syndrome
Attends community college majoring in photo journalism. Intends to get an Associate degree, then transfer to a four-year college.
Larsen Syndrome
Attends a state university, pursuing a degree in International Studies and works in the Access Technology Lab.
Cerebral Palsy and learning disabilities
Attends community college, and would like to run her own social club where people who have physical disabilities can get together and socialize and participate in interesting events.
Visual impairment
Graduated from a private university with a degree in Political Science and Philosophy and plans to participate in a variety of volunteering opportunities in Uganda, Africa and to go to graduate school.
Learning disability
Studies physics and writing at college.
Entering her final year at a state university, majoring in early childhood education and a minoring in special education.
Will be a senior in college and completing a Bachelor of Arts degree in Liberal Arts. Interested in child development.
Osteogenesis Imperfecta
A sophomore in community college, would like to transfer to a state university to study computer engineering.