'98 Ambassadors: Washington Ambassadors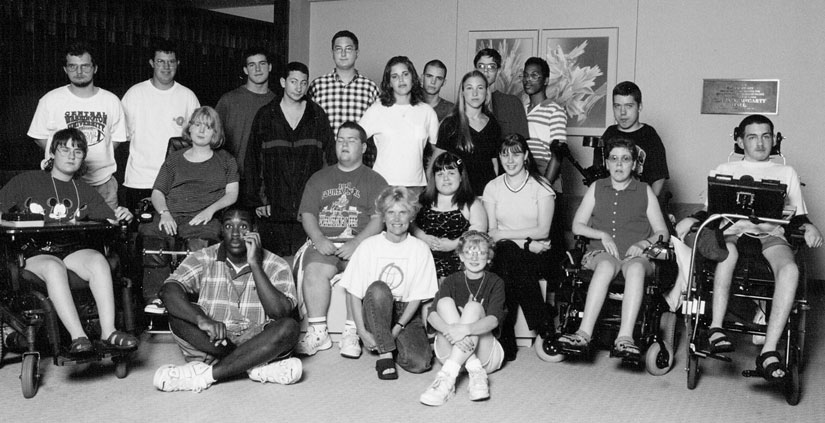 Washington Ambassadors
The following Ambassadors began participating in DO-IT as Scholars in 1998. They continue to pursue college and career goals and encourage younger DO-IT Scholars and Ambassadors.
Traumatic brain injury
Earned an associate's degree in integrated studies at Cascadia Community College. Attends the University of Washington, Bothell, pursuing a bachelor's degree in global studies with an emphasis on human rights. Works part-time for the Army Corps of Engineers in Seattle.
Graduated from Spokane Falls Community College in mechanical engineering.
Glaucoma
Earned a bachelor's degree in psychology from the University of New Orleans.
Mobility impairment
Attends Spokane Falls Community College. Hopes to become a Network Security Analyst.
ADD, dyslexia, and dysgraphia
Attended Muskingum College in Ohio.
Cerebral palsy
Studied social work at the University of Wisconsin Oshkosh.
Cerebral palsy
Earned associate's degree and works at the Federal Aviation Administration as an office administrator.
Visual impairment
Interested in attending a community college in the Portland area.
ADD
Graduated with a bachelor's degree from Fort Valley State University.
Dyslexia
Full-time mother and wife whose husband is in the military.
Learning disabilities and ADHD
Completed a bachelor's degree at the University of Alberta with majors in physics and mathematical sciences. Currently pursuing a bachelor's degree in economics and Christian theology, while working at the University of Alberta as associate vice president of Student Life.
Visual impairment
Interested in programming or designing video games.
Dyslexia and ADD
Graduated from the University of Washington with a bachelor's degree in informatics and a minor in dance. Worked as a business intelligence consultant at JP Morgan Chase.
ADD
Musician. Loves video games.
ADHD and communication disorder
Worked in retail.
Scoliosis and kyphosis with metatrophic dwarfism, dysplasia, and condrodystrophy
Graduated from the Evergreen State College with a bachelor's degree in theater and English literature.
Tourette syndrome, ADD, and panic disorder
Earned a degree in mechanical engineering from Seattle University.
Visual impairment
Plans to pursue a career in music.