'97 Ambassadors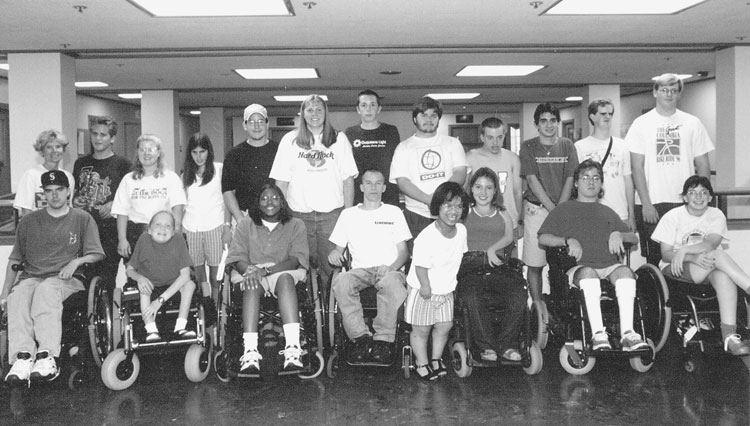 The following Ambassadors began participating in DO-IT in 1997. They continue to pursue college and career goals and encourage younger Scholars and Ambassadors.
Blind
Graduated with a Bachelor's Degree in General Studies and is pursuing a possible career in blindness skills education.
Mobility impairment
Majoring in physics.
Paraplegia
Graduated with honors and with a degree in communications and a minor in computer systems integration. Currently working as a free-lance writer for a magazine.
Achondroplasia
Graduated with a Bachelor of Science in Economics. Currently working at Washington Mutual Bank, but looking for a job in security investment.
Epilepsy
Attends community college and working at Target as a customer service helper.
Paraplegia
Attends the a state university, majoring in mechanical engineering.
Quadriplegia
Earned Associate of Arts and Sciences degree in design drafting and a mechanical design certificate and is now working towards an architectural and civil drafting degree.
Blind
Attending community college.
Spina Bifida with Upper Motor Neuron Dysfunction
Graduated with a Bachelor's degree and now pursuing an M.A.-Ph.D. program in Political Theory and International Politics.
Profoundly deaf
Graduated with English and Publishing degrees. Plans to pursue a career in editing after spending the summer in Greece as a camp counselor for an Ionian Village.
Dyslexia
Studying to be a registered nurse at community college.
Paraplegia
Attends a state university, majoring in accounting.
Severe hearing loss
Economics graduate; pursuing an M.B.A.
Dyslexia
Attends a tech university, majoring in engineering.
Ischemic spinal cord injury
Completed a Bachelor of Arts degree in physics and philosophy and is now pursuing graduate studies in physics.
Blind
Attended a state university pursuing a career in engineering. Passed away in 2001 after a battle with cancer.
Attends a private university, majoring in social studies and pursuing a career as a political strategist.
Retinitis Pigmentosa, low vision
Attends a university, majoring in social sciences and plans to become a teacher for the visually impaired.