'96 Ambassadors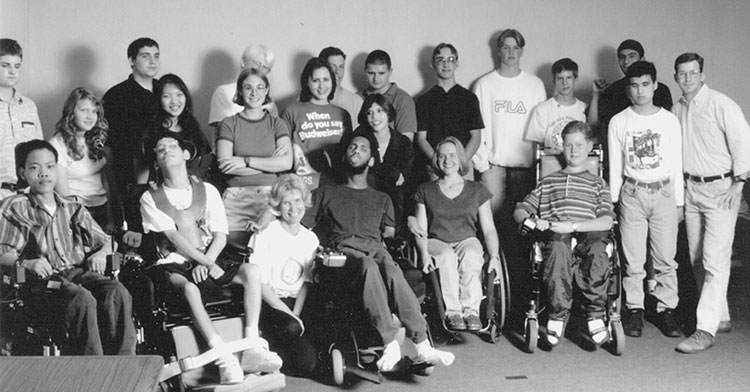 The following Ambassadors began participating in DO-IT in 1996. They continue to pursue college and career goals and encourage younger Scholars and Ambassadors.
Learning disability
Graduated with a Bachelor of Science Degree in Microbiology and minors in Computer Science and Chemistry. Working for Midwest Research Institute as an assistant scientist.
Paraplegia
Majoring in molecular and cellular biology, with a goal to be a physician who works with disabled children.
Brain tumor
Senior, majoring in computer science with plans to pursue a career in computer programming.
Albinism and low vision
Attends a state university.
Hearing impairment
Majoring in graphic communications with an emphasis in multimedia design. Co-author of several books and articles.
Hearing impairment
Majoring in public policy and administration. Working for the Oregon Department of Justice and interested in the Peace Corps.
Deaf
Attends the a national institute for the deaf and aspires to be a veterinarian, doctor, or marine biologist.
Attention Deficit Disorder
Attends a private university.
Cerebral Palsy
Junior, majoring in political science and minoring in interior design. Hopes to design accessible homes.
Diabetes
Earned a Bachelor of Arts degree in English and Art and performs with a Dance Company.
Cerebral Palsy
Completed a Bachelor's degree in Biology and Microbiology and is now pursuing a doctorate with focus in genetics and molecular biology.
Larsen Syndrome
Working toward a Master's in City and Regional Planning.
Blind
Graduated with a Bachelor's degree in Computer Science and now works as a software engineer and entrepreneur.
Cerebral Palsy
Graduated from high school and may attend a private university. Hopes to open a restaurant or other business.
Attention Deficit Disorder (ADD) and learning disability
Completed an Associate of Arts degree and will transfer to a 4-year university to pursue a Bachelors degree in computer technology.
Muscular Dystrophy
Completed an Associate of Arts and Sciences degree in Horticulture Science. Owns nursery and garden shop, specializing in water gardens and hostas, and does landscape design.