'97 Ambassadors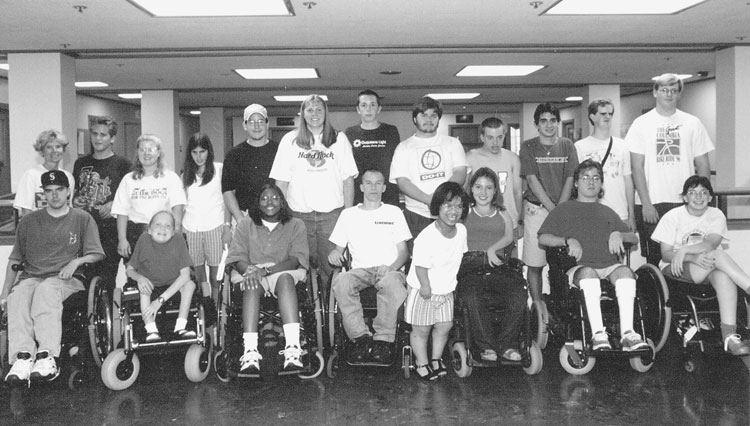 The following Ambassadors began participating in DO-IT in 1997. They continue to pursue college and career goals and encourage younger Scholars and Ambassadors.
Mobility impairment
Majoring in physics at the Rochester Institute of Technology.
Paraplegia
Attending the University of Great Falls, majoring in communications with an emphasis in writing, and minoring in computer systems integration. Plans to be a writer for a newspaper or magazine. Intern in Summer Study '99.
Blind
Graduated with a degree in General Studies from the University of North Dakota. Pursuing the possibility of a career in blindness skills education.
Achondroplasia
Attending the University of Washington. Plans to major in international business.
Epilepsy
Attending Bellevue Community College and working at Target as a customer service helper.
Paraplegia
Attending the University of Arizona, majoring in mechanical engineering.
Quadriplegia
A.A.S. in design drafting and a mechanical design certificate from Green River Community College. Working towards an architectural and civil drafting degree.
Blind
Attending St. Pete Junior College. Enjoys playing guitar and singing country music.
Spina Bifida with Upper Motor Neuron Dysfunction
Pursuing a degree in history and philosophy at Colorado College. Plans to attend graduate school and become a European history professor.
Profoundly deaf
Double majoring in English and publishing at the University of Connecticut. Plans to pursue a career in editing.
Dyslexia
Working as a sales consultant for Verizon. Interests include playing on the computer, riding bikes, and watching movies.
Paraplegia
Attending Mississippi State University, majoring in accounting. Plans to attend graduate school.
Severe hearing loss
Economics major from the University of Connecticut. Pursuing an M.B.A. at the University of New Haven.
Dyslexia
Attending Virginia Tech University, majoring in engineering.
Ischemic spinal cord injury
B.A. in physics and philosophy, Hendrix College. Pursuing graduate studies in physics at the University of Arkansas.
Attending Harvard, majoring in social studies. Hopes to become a political strategist.
Retinitis Pigmentosa, low vision
Attending Portland State University, majoring in social sciences. Plans to become a teacher for the visually impaired.