'97 Ambassadors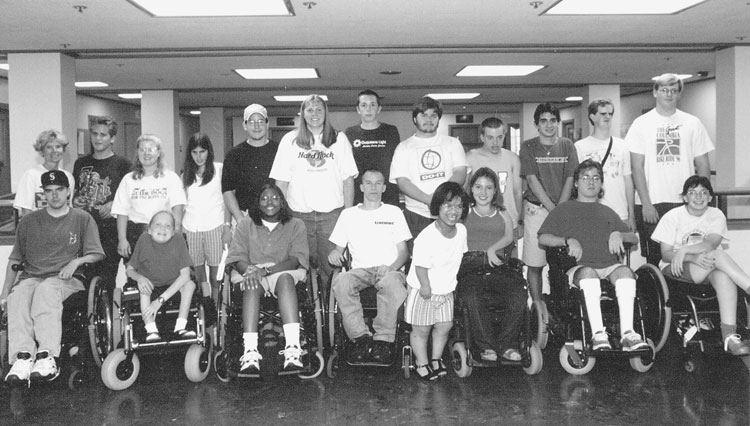 The following Ambassadors began participating in DO-IT as Scholars in 1997. They continue to pursue college and career goals and encourage younger DO-IT Scholars and Ambassadors.
Mobility impairment
Attended the Rochester Institute of Technology to study physics.
Paraplegia
Graduated with honors from the University of Great Falls with a major in communications and a minor in computer systems integration. Works as a freelance writer.
Blind
Graduated with a bachelor's degree from the University of North Dakota. Finds fulfillment in her role as a homemaker and in her Bible studies. Attends Toastmasters to improve her communication and leadership skills.
Achondroplasia
Graduated from the University of Washington with a bachelor's degree in economics.
Epilepsy
Attended Bellevue Community College.
Paraplegia
Studied business at Northern Arizona University and worked at Pima Community College as a business mathematics tutor.
Quadriplegia
Earned an associate's degree in design drafting and a mechanical design certificate from Green River Community College; working towards an architectural and civil drafting degree.
Spina bifida with upper motor neuron dysfunction
Graduated with a Ph.D. from the University of Denver's Graduate School of International Studies in political theory and international politics.
Profoundly deaf
Graduated from the University of Connecticut with English and publishing degrees. Works for a survey sampling service supporting market research companies.
Dyslexia
Works as a sales manager at Verizon Wireless. Married.
Mobility impairment
Earned her Bachelor of Accountancy from Mississippi State University and her Masters of Business Administration degree from Belhaven University. Currently works for Lafayette County as the accounts payable clerk.
Severe hearing loss
Graduated from the University of Connecticut with a bachelor's degree in economics. Earned a Masters of Business Administration from the University of New Haven. Lives in San Francisco and works for a hedge fund administrator as a senior fund accountant.
Ischemic spinal cord injury
Earned a master's degree and Ph.D. in micro-electronics and photonics at the University of Arkansas. Received Walton Distinguished Doctoral Fellowship.
Blind
Attended the University of Utah and was pursuing a career in engineering when he died in 2001 after a battle with cancer.
Earned a bachelor's degree from Harvard and a juris doctorate from Georgetown University. Worked in the United States Senate. Currently practices corporate law in New York.
Visual impairment
Graduated from Portland State University (PSU) with a bachelor's degree in social science and teaching credentials to teach students with visual impairments. Teaches at the Utah School for the Blind and is pursuing a master's degree in special education at PSU.