'96 Ambassadors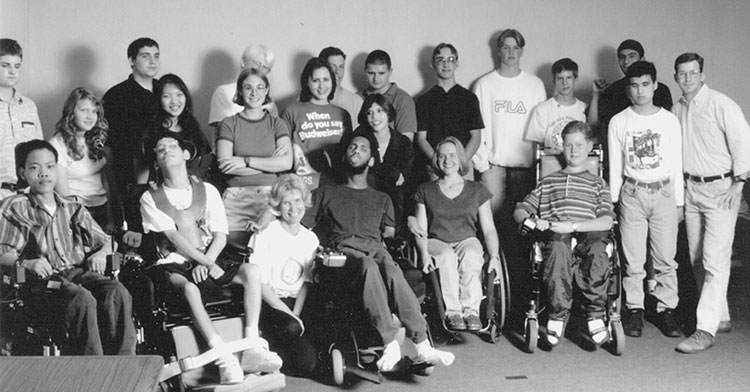 The following Ambassadors began participating in DO-IT in 1996. They continue to pursue college and career goals and encourage younger Scholars and Ambassadors.
Majoring in microbiology at Eastern Washington University. Hopes to get a Ph.D. in bacteriology or virology and teach at the college level. Intern at Summer Study '99.
Paraplegic
Majoring in molecular and cellular biology at the University of Arizona. Goal is to be a physician who works with disabled children. Intern at Summer Study '99.
Brain Tumor
Senior at Eastern Connecticut State University, majoring in computer science. Plans to pursue a career in computer programming.
Albinism and low vision
Attending Eastern Oregon State College.
Majoring in graphic communications and interning at Minot State University. Co-author of several books and articles. Also creates Web pages. Intern at Summer Study '99.
Majoring in public policy and administration at Western Oregon University. Currently working for the Oregon Department of Justice and Benton County Sheriff's Office. Also interested in the Peace Corps.
Deaf
Attending the National Technical Institute for the Deaf, Rochester, NY. Aspires to be a veterinarian, doctor, or marine biologist.
Attention Deficit Disorder
Attending Pacific Lutheran University. Intern at Summer Study '99.
Cerebral Palsy
Junior at San Diego State University, majoring in political science and minoring in interior design. Hopes to help design fully accessible homes. Intern in 2002 Summer Camp co-sponsored by DO-IT and Camp Courage, MN.
Diabetes
B.A. in English and Art, Augustana College. Danced with the Dance Company at Augustana for three years. Intern at Summer Study '98.
Cerebral Palsy
B.S. in Biology and Microbiology, Idaho State College. Pursuing doctorate at Iowa State University with focus in genetics and molecular biology.
Larsen Syndrome
Pursuing a major in international business and economics at the University of California at Berkeley. Considering working toward an M.B.A.
Blind
Senior at the University of Nebraska in Lincoln, majoring in computer science. Worked as a computer consultant intern for the state of Nebraska and involved with freelance programming. Intern at Summer Study '98.
Cerebral Palsy
Graduated from Poquoson High School. Considering attending the University of Pittsburgh. Hopes to open a restaurant or other business.
Attention Deficit Disorder and learning disability
A.A., Landmark College. Transferring to either the University of Massachusetts-Lowell or Northeastern to pursue a B.S. in computer technology.