'94 Ambassadors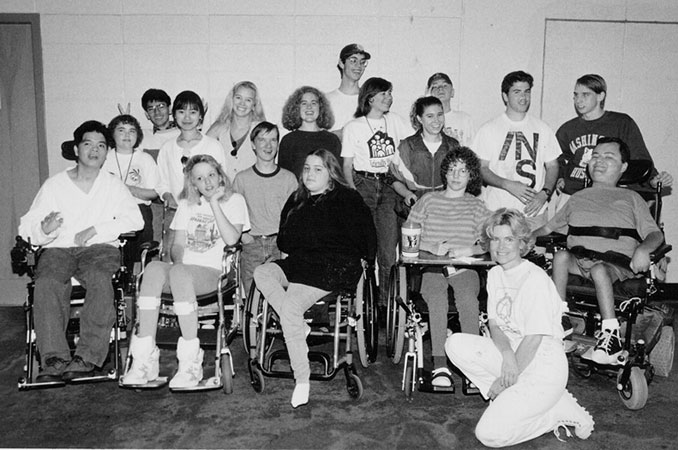 The following Ambassadors began participating in DO-IT as Scholars in 1994. They continue to pursue college and career goals and encourage younger DO-IT Scholars and Ambassadors.
Cerebral Palsy, learning disabilities
Works as Remote Troubleshooter for the Technical Service Department and does Research and Development at the Prentke Romich Company (PRC).
Spinal Muscular Dystrophy
Earned a Bachelor's degree in English from the University of Washington. Attended law school at Pepperdine School of Law. Plans to do community litigation work.
Undiagnosed Severe Neuropathy
Interests include biology, business and bioinformatics. Volunteers in related fields.
Post-Polio
Completed a Bachelor's degree in speech and hearing sciences from the University of Washington.
Learning disability
Earned an Associate's degree in arts and sciences from Pierce Community College. Works for Pacific Office Automation as a shop supervisor.
Health and orthopedic impairments, dwarfism
Interested in computer science.
Health impairment, Nervous System Dysmorphia, and Congenital Scoliosis
Studied physics, biology, mathematics, and computers at the University of Washington. Currently living in Japan and pursuing a technology career.
Visual impairment
Attended Southern Oregon University, with a major in psychology and a minor in hotel, restaurant, and resort management.
Muscular Dystrophy
Worked at Columbia Industries in Kennewick, WA. Passed away on October 24, 2003.
Paralysis from brain injury
Attended South Seattle Community College and participates as LEAP Project (Leadership, Education & Advocacy Program) Advisory Board Member and as a Church Service Missionary.
Dyslexia
Graduated from University of Nevada Las Vegas. I was an intern at Summer Study 2005.
Cerebral Palsy and low vision
Attended Shoreline Community College.
Visual impairment
Earned a Bachelor's degree in psychology and chemistry from Oregon State University and an Master's of Business Administration in information technology management from the University of Phoenix.
Chronic Lyme disease
Earned a Bachelor's degree in biology from Pacific Lutheran University and a Sign Language Certificate.