'93 Ambassadors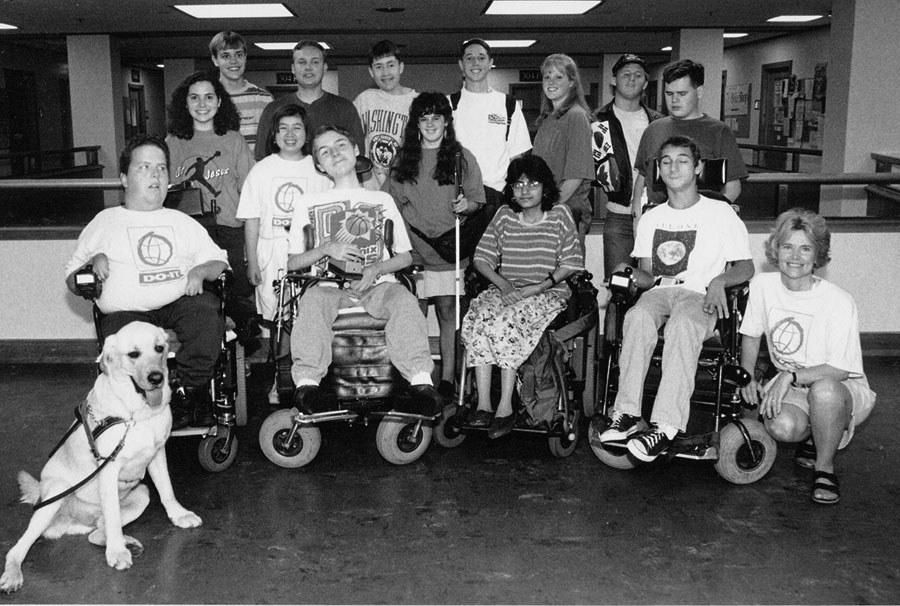 The following Ambassadors began participating in DO-IT in 1993. They continue to pursue college and career goals and encourage younger Scholars and Ambassadors.
Stroke resulting in partial paralysis of right half of body
B.A. in Social Work, minor in Applied Psychology, Eastern Washington University, WA. Plans to enter the Social Work field in Eugene, OR.
Deaf
B.S. in Biology, Washington State University. Masters degree in physical therapy from Eastern Washington University. Plans to obtain a job in physical therapy in Portland, OR.
Multiple Sclerosis (MS)
A.A.S. in Business, Highline Community College, WA.
Attention Deficit Hyperactivity Disorder and learning disability
B.A. in Marketing, Seattle University, WA. Working at Nordstrom.
Hearing impairment
Graduated from two-year program in engineering at the Washington Electronic Institute. Working in technical field.
Blind
B.A. from Evergreen State College, WA. Working at Illuminet Corporation.
Health impairment
Graduated with a degree in Computer Information Systems. Interning at Alaska Airlines' database design department.
Arthrogryposis Multiplex Congenita
Pursuing computer programming and writing at Seattle Central Community College, WA.
Visual impairment
A.A.S. in Applied Science, Mount Hood Community College. Working at Stream International as a technical support representative.
Blind
B.S. in Cell and Molecular Biology, University of Washington. Artist, aikidoist, and AmeriCorps employee.
Cerebral Palsy
Developing a cooperative group home in Eugene, OR. Plans to study mechanical engineering.
Dyslexia
M.S. Math and Computer Science, minor in Physics, University of Puget Sound, WA. Working as a computer programmer.
Spina Bifida, Homer's Syndrome, & Thalamic Pain Syndrome
A.A., Wenatchee Valley College, WA. Works as professional recording artist.