2009 Scholars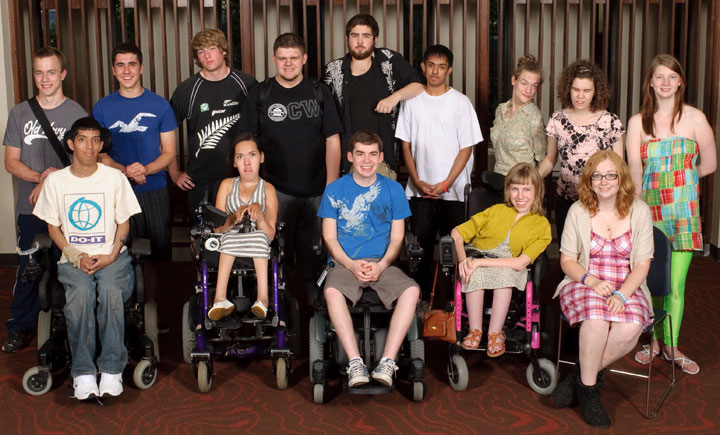 Athetoid cerebral palsy, mild hearing loss. Graduated from Yakima Valley Community College. Works part time as an office assistant for a dental clinic. Volunteers in bible study at her church.Athetoid cerebral palsy, mild hearing loss. Graduated from Yakima Valley Community College. Works part time as an office assistant for a dental clinic. Volunteers in bible study at her church.    
Dyslexia, attention deficit hyperactivity disorder, cognitive processing disorder
Graduated with a bachelor of arts in human services from Western Washington University. Interned at Days for Girls International in the homeless housing department as an assistant case manager, and helped veterans get their benefits. Has worked at Brigadoon Service Dogs for four years. Hopes to travel and empower women around the world. Plans on getting an Americorps position in Maple Falls. 
Learning disability. Graduated from Edmonds Community College with a degree in construction management. Works as a part time computer lab assistant. Would like to be an orthodontist.
Orthographic dysgraphia. Graduated from Gonzaga University with a bachelor of science.
Brain tumor, left-sided paralysis, visual impairment. Graduated from Shoreline Community College with two associate's degrees and from Seattle Central College with a bachelor's degree in applied behavioral science. Accepted to graduate school at the University of Washington. Plans to work with families of children with autism, helping manage behaviors. She received a 2015 Trailblazer Award.
Autism. Bachelor of music degree, magna cum laude, from Central Washington University in percussion performance with a minor in aviation management. Principal timpanist with Seattle Festival Orchestra. Has performed with the Vancouver Symphony at Whistler, Cascade Percussion Ensemble, and studied on Broadway in musical pit orchestras. Volunteers at SeaTac airport with the Wings for Autism program.
Dyslexia and dysgraphia. Graduated from American University with a bachelor's degree in physics in 2016. Worked as lab technician and researcher in the Laser Interferometer Gravitational-Wave Observatory collaboration that detected gravitational waves in 2015. Currently working as a wildland firefighter. Interested in quantum computing, physics, logging, and farming.
Spinal muscular atrophy. Graduated from Brigham Young University with a degree in public relations. Works as the noon show producer at the NBC affiliate in Salt Lake City.
Spinal muscular atrophy type 2. Took an online course from Penn Foster and is certified as a freelance writer. Also does grant writing projects. Self-published an ebook called Knotted Strings. Follow her blog at allegrakeys.blogspot.com.
Becker muscular dystrophy. Graduated from the University of Washington with a degree in psychology. Worked for the National Oceanic and Atmospheric Administration, Exo Labs, and at the Federal Aviation Administration. Currently works at Microsoft as a part of the Disability Answer Desk. Passionate about technology accessibility. 
Spinal cord injury. Attends Skagit Valley College. Interested in a job involving video editing or animation. Has received over 350,000 views on his YouTube videos. Likes to learn about computers. Owns a beagle and would like to live alone in an apartment in a large city.
Muscular dystrophy. Graduated from George Fox University with a bachelor of arts in sociology and minors in writing and women's studies. Was a member of the George Fox Jazz Ensemble and would like to continue playing. Enjoys writing fiction and playing sports.
Spina bifida; learning disability. Graduated from Clark College. Would like to be a youth pastor or counselor. Has two dogs.
Cerebral palsy. Earned an associate of arts transfer degree from Skagit Valley College. Plans on getting his bachelor's degree in criminal justice or business administration. Working at Lowe's as a head cashier and plans to become a store manager. A member of the USBLN Advisory Council for the past two years working with businesses on improving accommodations for individuals with disabilities, including veterans.
Asperger syndrome. Earned a bachelor of science in electronics engineering technology with a computer engineering specialization from Central Washington University. Works as a software integration tester for Intel through a contractor.
Blind with light perception. Studied at Clark College. Would someday like to help the blind in other countries access technology.
Dyslexia, attention deficit disorder. Attends Portland Community College. Lives in Portland, Oregon. Works at Cornell Farms. His favorite pastimes are hiking and photography.