2007 Scholars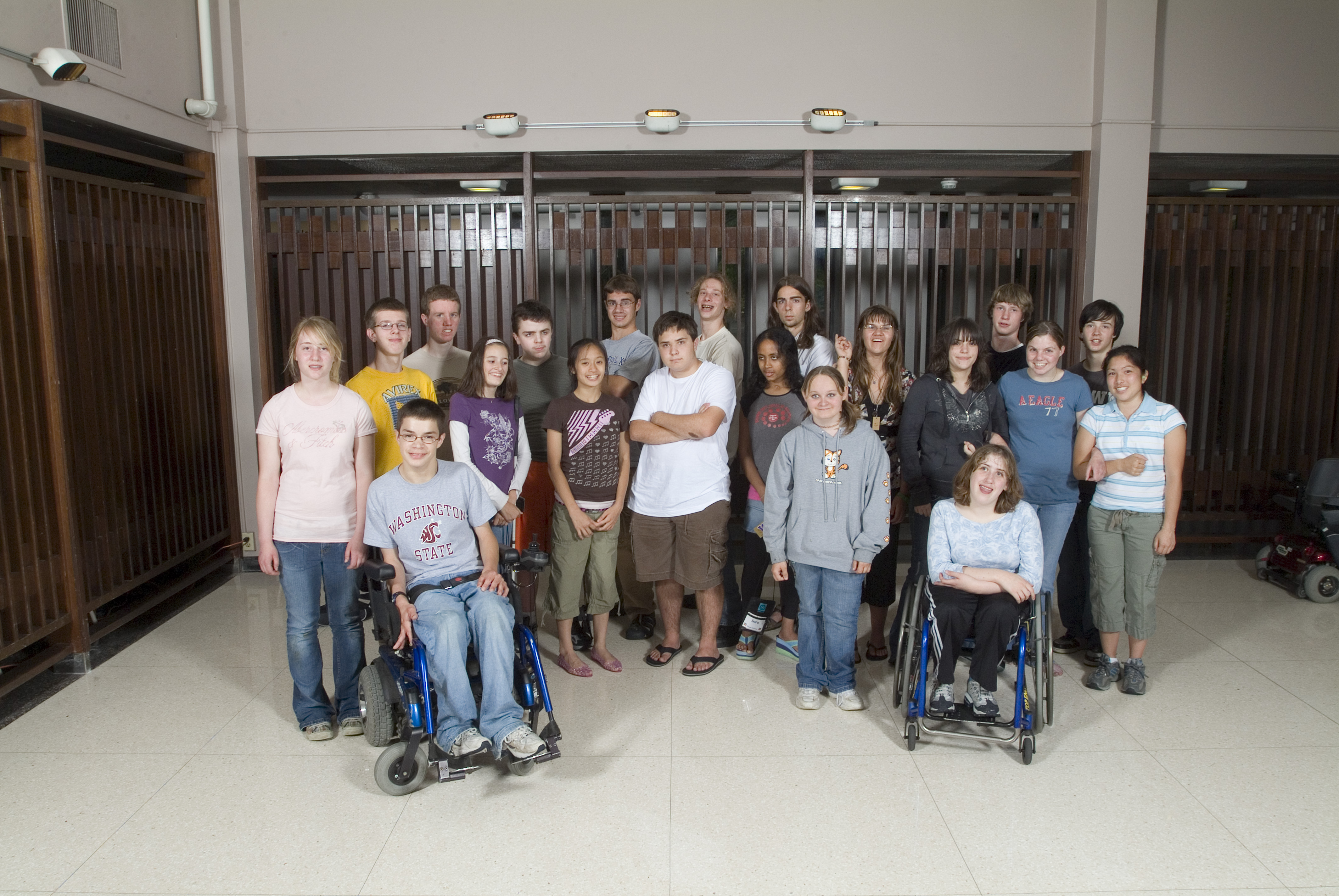 Blind
Graduated from The Evergreen State College.
Cerebral palsy
Intern at Rooted in Rights, Disability Rights Washington. Has a bachelor of arts in urban studies from the University of Washington Tacoma. Member of Pierce Transit's Community Transportation Advisory Group, Eli's Park Project Leadership Team, and the Rolling Thunder Power Soccer Team in Tacoma.
Asperger syndrome
Graduated from The Evergreen State College with a bachelor's degree and a master's in public administration. Hopes to put that education to use working for the State of Washington. Currently living in Olympia, Washington and working at an inbound call center. Likes to read science fiction, play Magic the Gathering, and do acro yoga in his free time.
Cerebral palsy
Earned an associate of arts and science degree from Whatcom Community College. Graduated from Western Washington University (WWU) with a bachelor's degree in biocultural anthropology. Works in the Web Communication Technologies department at WWU, focusing on remediating pdfs for accessibility. Enjoys photography.
Cerebral palsy (essential tremor)
Obtained an associate of arts degree in December of 2015. Worked as a dental sterilization technician. Passed away February 2016.
Asperger syndrome, nonverbal learning disability, attention deficit disorder
Graduated with a degree in interdisciplinary studies and disability studies from the University of Washington Bothell. Worked for Americorps and engaged in volunteer research at the University of Washington with an emphasis on eugenics.
Autism, Gorlin syndrome, obsessive compulsive disorder
Earned an associate of arts degree from Grays Harbor College. Works for the health department in South Bend, Washington.
Attention deficit disorder
Earned a bachelor of science degree in biology from the University of Washington after transferring from Tacoma Community College. Worked as a substitute special education paraeducator in the University Place School District. Volunteers at the Point Defiance Zoo & Aquarium and earned the Rookie of the Year Award for this work.
Tourette syndrome
Attended Bellevue College and Western Washington University majoring in environmental studies.
Spina bifida
Earned a bachelor's degree in English from Central Washington University. Studied abroad at the University of Dundee in Scotland in 2013.
Attention deficit hyperactivity disorder
Earned an associate of science degree in networking from Walla Walla Community College. Pursuing jobs in computer repair and troubleshooting.
Severe high frequency hearing loss
Graduated from Chapman University and is a certified athletic trainer. Works as an athletic trainer at a high school in Oregon.
Friedreich's ataxia
Graduated from the University of Portland with a bachelor's degree in finance and from the University of South Florida with a master of business administration and a master's degree in sport and entertainment management. Worked for the Tampa Bay Lightning in Tampa, Florida and is currently working for the National Hockey League Seattle in Seattle, Washington.
Cerebral palsy, learning disability (reading)
Graduated from Central Washington University in 2015. Has worked as a producer, podcaster, and YouTuber; now works as a weekend radio producer for a conservative radio cluster in Seattle and occasionally as an actor in independent films.
Legally blind
Earned a degree in psychology and economics from The Evergreen State College. May pursue a master of social work degree. Involved in an occupational therapy program with Services for the Blind in Seattle.
Dyspraxia
Earned a certificate in park aid and an associate degree from Skagit Valley College. Currently working at Betts Boat Enterprises Inc. in Anacortes, Washington. Wants to become a park ranger.
Traumatic brain injury
Graduated from Yakima Valley Community College. Certified in drafting, erosion sediment control lead, and information security training. Works as a paraprofessional in the local school district.
Ehlers-Danlos syndrome
Earned a library and information services associate of applied science degree. Working on bachelor's degree in elementary education. Works for Sprague and Lamont School Districts as a librarian and technology coordinator. Co-instructs high school robotics and coding.