Recreation
Personal training is available in-person at the IMA for students only. Virtual personal training continues to be open to everyone.
What is personal training?
Personal training is one-on-one instruction that incorporates exercise screening, goal-setting and health education. Following a fitness consultation, the trainer will design a challenging workout routine specifically designed for each individual's needs. All of our personal trainers are certified through a nationally recognized organization and are CPR/First Aid certified.
How can a personal trainer help me?
Individual exercise plans
Fitness/health goal setting
Weight loss/gain plans
Monthly workout "tune-ups"
Sport-specific training
New Clients
Introductory Session $20 Employees/ $15 Students!
The introductory lesson is a 60 minute session where your trainer will give a detailed analysis of where you should take your fitness program. Throughout this session, expect basic assessments such as info gathering, physical fitness tests as well as a chance to go over what equipment you have in your space.
If you do not have equipment at home, don't worry! Our trainers are comfortable getting creative with your workouts, whether it is using soup cans for shoulder presses or paper plates for ab gliders, they have got you covered!
If you are a UW Employee who has never been a member of the IMA, or you need to update your contact information, please contact Janae Norman at normanje@uw.edu to get started. 
Current Clients: Your personal trainer will contact you when she/he has been notified by the fitness manager of your purchase. Please allow three business days for the trainer to be notified. All clients are required to purchase additional training sessions prior to scheduling more sessions.
Session pricing (each session is 60 minutes):
Student
Single Session: $25.00*
4 Sessions: $80.00*
8 Sessions: $150.00*
12 Sessions: $210.00*
UW employee/spouse/plus one
Single Session: $48.00*
4 Sessions: $180.00*
8 Sessions: $345.00*
12 Sessions: $480.00*
*Washington State Sales tax is not included and will be applied at checkout.
Meet the Trainers:
Becky
Education & Certification
B.S. Kinesiology, Western Washington University
Certified Personal Trainer (CPT), American College of Sports Medicine
USA Rowing Level 2
| Day | Availability |
| --- | --- |
| Monday | 6:00 a.m. – 10:00 a.m. |
| Tuesday | 6:00 a.m. – 10:00 a.m. |
| Wednesday | 6:00 a.m. – 10:00 a.m. |
| Thursday | 6:00 a.m. – 10:00 a.m. |
| Friday | 11:00 a.m. – 7:00 p.m. |
Background
Becky studied kinesiology in college with the intention of becoming a physical therapist. After volunteering at various physical therapy clinics, she realized that she enjoyed preventative training more than treating and releasing. She shifted her focus from physical therapy to personal training, initially training athletes, and now works with all types of exercisers. She is quick to notice inefficient movement patterns along with muscle imbalances, and weaves in exercises to improve both.
Growing up, Becky was a competitive gymnast, and switched to rowing in college when she successfully walked on to Western's women's rowing team. She has coached rowing at Pacific Lutheran University, worked as an Exercise Specialist at Valley Medical Center, and most recently, was one of the trainers at Eastlake Performance.
In her free time she rows on Lake Union, rock climbs, runs, crochets, and reads. She loves to try new things and isn't scared to struggle through the learning process.
Specialties
Functional Training
Rowing
Sport-Specific Training
Dante
Education & Certification
B.S. Kinesiology, Washington State University
| Day | Availability |
| --- | --- |
| Monday | 12:00 p.m. – 8:00 p.m. |
| Tuesday | 7:00 a.m. – 8:00 p.m. |
| Wednesday | 12:00 p.m. – 8:00 p.m. |
| Thursday | 7:00 a.m. – 8:00 p.m. |
| Friday | 12:00 p.m. – 8:00 p.m. |
Background
Although Dante is a WSU alumnus, but don't hold that against him—he was a huge Husky fan growing up and is excited to work at UW. He's trained a range of clients, including professional athletes, weekend warriors, desk jockeys and the elderly. He believes exercise is fundamental to living a well-balanced life, and truly enjoys helping people. He is confident an inner athlete lives inside everyone, and it's his job to motivate clients to unlock their physical potential.
Dante incorporates functional training in his workouts, making sure that each workout helps clients improve physical performance outside the gym. He strives to make each workout a challenging learning experience with a focus on optimal range of motion and proper mechanics. Ensuring each client reaches their potential and is inspired to pursue a healthier and more physical lifestyle.
During his free time, he enjoys reading anything sports or health-related, working on his car and spending time outdoors. He's an avid basketball player, and enjoys football and baseball as well.
Specialties
Sport-Specific Training
Conditioning
Functional Training
Core Strength
Proprioception/Balance Training
Ivory
Education & Certification
B.A. in Public Health (psychology minor), Johns Hopkins University
Masters in Public Health, Registered Dietitian, University of Washington School of Public Health
Certified Personal Trainer, American Council of Exercise
| Day | Availability |
| --- | --- |
| Wednesday | 5:00 p.m. – 9:00 p.m. |
| Thursday | 10:00 a.m. – 9:00 p.m. |
| Friday | 10:00 p.m. – 8:00 p.m. |
| Saturday | 10:00 a.m. – 8:00 p.m. |
| Sunday | 10:00 a.m. – 8:00 p.m. |
Background
Physical activity has always been an important part of Ivory's life. Growing up, she enjoyed team sports, including track and field, cross country, and rugby. In college, she became a personal trainer and F45 group fitness trainer at the Hopkins recreation center to not only share her love for exercise, but also to get to know members of her community in a meaningful way.
Ivory values supporting her clients in their health journeys and strives to build genuine relationships with her clients. She also believes it is important to prioritize creating a safe and open space for people of all body sizes, backgrounds, and experience with exercise to engage in joyful movement. Ivory's passion to encourage holistic health and wellbeing through the promotion of a healthy lifestyle at both the individual- and population-levels prompted her to pursue her training to become a Registered Dietitian Nutritionist and Master's in Public Health Nutrition.
Before moving to Seattle, Ivory taught at an F45 studio in Shanghai, China, and taught group fitness classes to seniors at a community center in Baltimore, MD. She has worked with clients ranging from college athletes to seniors and specializes in high-intensity and circuit training. Ivory enjoys calisthenics and functional training in her own workouts. In her free time, she enjoys exploring new neighborhoods and parks (what she calls "urban hikes"), traveling, and trying new things, especially if it involves food and movement!
**Please note that while Ivory also offers Peer Nutrition services with us, Peer nutrition is not included in Personal Training Sessions and needs to be booked separately**
Specialties
Functional training
Circuit training
High-intensity training
Core strength
Nutrition programming
Kari
Education & Certification
B.S. Human Kinetics, University of British Columbia
Certified Strength & Conditioning Specialist (CSCS), National Strength & Conditioning Association
Certified Personal Trainer (CPT), Canadian Society of Exercise Physiology
| Day | Availability |
| --- | --- |
| Monday | 7:00 a.m. – 12:00 p.m. |
| Tuesday | 7:00 a.m. – 4:00 p.m. |
| Wednesday | 7:00 a.m. – 2:00 p.m. |
| Thursday | 7:00 a.m. – 4:00 p.m. |
| Friday | 7:00 a.m. – 12:00 p.m. |
Background
(only taking clients virtually!)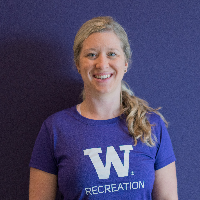 To Kari, exercise is an important, meaningful part of daily living. Although our schedules are busy, she believes exercise should be incorporated to become routine. Kari is an ardent supporter that exercise can prevent health problems and improve quality of life, and she looks forward to helping everyone achieve their fitness and lifestyle goals.
Kari's love of fitness started at an early age with team sports. She grew up playing volleyball, basketball and soccer, and since then has added snowboarding, surfing, running and yoga. A native Canadian, she ran her own personal training business in the Vancouver area for six years before moving to Seattle, working with a wide variety of clients.
Kari loves to craft, read health books (non-fiction, of course!) and travel around the world, particularly to Vancouver to visit friends and family. An obvious Canucks fan, she enjoys eating poutine and drinking Canadian beer.
Specialties
Rehabilitation
High Intensity Training
Sport-Specific Training
Circuit Training
Functional Training
Kendrick
Education & Certification
Certified Personal Trainer (CPT), American Council on Exercise
B.A. International Studies, University of Washington
| Day | Availability |
| --- | --- |
| Monday | 8:00 a.m. – 8:00 p.m. |
| Tuesday | 8:00 a.m. – 4:00 p.m. |
| Wednesday | 8:00 a.m. – 4:00 p.m. |
| Thursday | 8:00 a.m. – 4:00 p.m. |
| Friday | 8:00 a.m. – 8:00 p.m. |
Background
Kendrick

 recently received his personal training certification from the American Council on Exercise, balancing his life as an undergraduate student with studying for the certification exam. Kendrick realized how important exercise was for students both physically and mentally after having played for the UW club soccer and rugby teams, as well as spending more time at the IMA than in the library. This led him to take up personal training as a way of helping other students like himself discover its benefits. 
In his free time, he can be found playing soccer or studying for his law school admissions exam.
Specialties
Individual exercise plans
Sarah
Education & Certification
North Seattle College, anticipated March 2021, prerequisite courses for Doctorate of Physical Therapy programs
University of Washington, 2018, Bachelor of Arts in Linguistics with minors in Nutrition, Entrepreneurship, and Music
American Council on Exercise (ACE) Certified Personal Trainer
ACE Group Fitness

First Aid & CPR – American Red Cross
| Day | Availability |
| --- | --- |
| Monday | 11:00 a.m. – 12:00 p.m. |
| Monday | 1:30 p.m. – 4:15 p.m. |
| Wednesday | 2 p.m. – 6:30 p.m. |
Background
Coach Sarah is an ACE-certified personal trainer who is passionate about empowering people to lead happier, healthier lives through functional exercise. She enjoys working with each client to design and coach an effective exercise program that addresses their unique goals and lifestyles.
Sarah has a diverse coaching background and is especially interested in helping individuals of all ages improve muscular strength, addressing muscular imbalances, and enhancing sport specific performance.
This past year, Sarah has been working towards her goal of becoming a Doctor of Physical Therapy by completing prerequisite courses and beginning work as an exercise technician at a Physical Therapy Clinic.
Specialties
Functional training
Core strengthening
Endurance training
Martial Arts (boxing, Muay Thai, kickboxing)
Sharon
Education & Certification
B.S. Computing Science (Kinesiology minor), Simon Fraser University
Certified Strength & Conditioning Specialist (CSCS), National Strength & Conditioning Association
Certified Personal Trainer (CPT), American Council on Exercise
| Day | Availability |
| --- | --- |
| Tuesday | 10:00 a.m. – 4:00 p.m. |
| Wednesday | 10:00 a.m. – 4:00 p.m. |
| Thursday | 10:00 a.m. – 4:00 p.m. |
| Friday | 10:00 a.m. – 4:00 p.m. |
Background
Sharon loathed gym class growing up and she had let it colour her relationship to exercise. She was well into her computer degree when she became fascinated with human movement and the power within ourselves to heal and transform the body. Sharon extended her degree to add a Kinesiology minor. She worked in the high tech industry after graduation but became a personal trainer in 2003 and has never looked back, embracing her passion and evangelizing healthy lifestyle choices to all that would listen.
Sharon has trained clients ranging from athletic to terminally ill, from highly motivated to highly social. She is a stickler for excellent form and technique, not letting you cheat through your exercises. She knows just how much to push you to get the most out of your workout, safely and without injury. Sharon has also taught indoor cycling classes, and has competed in triathlons and open-water swims.
Other passions of Sharon's include swimming in warm tropical waters as well as eating and cooking delectable food. She volunteers much of her off-time, teaching nutrition to low income groups, speaking to middle-schoolers to stay in school and as a program assistant at KEXP radio station.
Specialties
Teaching beginners
Strength training
Training for life's activities and passions
Senior fitness
Travis
Education & Certification
B.S. Kinesiology, Washington State University
Certified Strength & Conditioning Specialist (CSCS), National Strength & Conditioning Association
| Day | Availability |
| --- | --- |
| Monday | 4:00 p.m. – 8:00 p.m. |
| Tuesday | 4:00 p.m. – 8:00 p.m. |
| Wednesday | 4:00 p.m. – 8:00 p.m. |
| Thursday | 4:00 p.m. – 8:00 p.m. |
| Friday | 4:00 p.m. – 8:00 p.m. |
Background
( only taking clients virtually!)
Travis is dedicated to helping each client optimize their health and longevity. His training focuses on full body dynamic movements in order to challenge core strength and cardiovascular health. He enjoys helping clients master their lifting form to become confident in controlling barbells, dumbbells, and kettlebells. He also incorporates mobility and injury prevention techniques into his workouts for pain free training. Travis likes to keep his workouts interesting, fun, and challenging by incorporating balance and body weight training to improve body control and awareness.
He developed a love of running and from this, utilizes leg and core exercises specific to running with his own training. He believes this benefits the body not only when running, but also when walking and sitting.
Travis grew up playing baseball, and now he enjoys running, hiking, and golfing. You can also find him watching movies and sports.
Specialties
Barbell Training
Kettlebell Training
Injury Prevention
Running Economy
---
Frequently asked questions
Am I eligible for personal training?
Students can work with their trainer in person at the IMA.
Non-students can continue to train virtually.
UW employees: please note that we are waiving the IMA membership requirement to participate in this program for Winter 2020 only while the IMA is closed to non-students. Personal training is virtual only for all non-students. You will need to keep this in mind if you decide to continue to train and purchase more sessions as the membership requirement will be reinstated in future quarters when we return to normal operations and training goes back to in-person. In the meantime, we are happy to get you active while staying at home!
What is the personal training session duration?
All personal training sessions are one hour.
What software is needed to train virtually?
You will need to have a steady internet connection and access to Zoom.
What attire should I wear for my personal training session?
Masks are required! Come prepared to each training session in proper workout attire and footwear. Participants arriving unprepared for their training session will lose the session.
What is your late arrival policy?
Clients are responsible for arriving on-time to their  training sessions. Trainers are obligated to wait only 15 minutes. After 15 minutes, the trainer is not required to lead the remaining time of the session and the session will be lost.
What is your cancellation policy?
Clients are asked to email their trainer 24 hours in advance of the scheduled training session. You will be charged for appointments cancelled with fewer than 24 hours notice. Failure to contact your trainer will result in a session loss.
Do personal training packages expire?
Individuals registering for personal training must complete all personal training sessions by the end of the client's eligibility to participate in the program (current IMA membership) or by the expiration date of the training package, whichever comes first. All personal training packages expire six (6) months from the date of purchase. All packages are non-refundable/non-transferable.
Who do I contact with questions regarding personal training?
Jeff Palmer, Fitness Programs Manager
jpalmer8@uw.edu

Your health and well-being are important to us at UW Recreation. The purpose of this disclaimer and notice is to make you conscious of the potential risks connected with any exercise, physical fitness, or training program, to help you make an informed decision as to whether or not you should participate in these types of activities.
UW Recreation recommends that you obtain a comprehensive physical examination and consult with a licensed physician before beginning this or any exercise program. When participating in this exercise program, there is the possibility of physical injury. If you engage in this program, you agree that you do so at your own risk, are voluntarily participating in these activities, assume all risk of injury to yourself, and agree to release UW Recreation from any and all claims or causes of action, known or unknown, arising from the use of these video or livestream productions.
UW Recreation does not provide accident/medical coverage for participants. It is recommended that participants obtain their own personal coverage. Students may obtain additional information on student accident/sickness insurance by contacting:
Student Insurance Office
Room 459 Schmitz Hall
(206) 543-6202
stdins@uw.edu