In Memory
Vishal Saraiya, '04 Scholar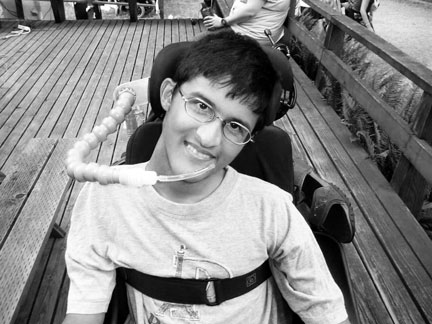 It is with sadness that we share the loss of our friend Vishal Saraiya, who passed away in January 2014, but celebrate his memory with joy. Vishal had been a part of the DO-IT family since 2004 when he first participated in the Scholars program.
Vishal was involved with a program called Northwest's Child / Aaron's Place, a place for children and teenagers with disabilities to go during the day for high quality educational, vocational, and social curricula. He made a large impact there, where he met and interacted with other students and staff. He also loved his time spent at Camp Promise every summer, where he connected with close friends. Camp Promise is a weeklong overnight camp for kids, teens, and adults with muscular dystrophy. Every year, without fail, Vishal would sing karaoke with fellow campers and volunteers. At his memorial service, attendees got to hear him sing "Ho, Hey" by the Lumineers from Camp Promise 2013.
 
Vishal was a huge sports fan, and was one of the honorary captains of the Seattle Storm for a day in July 2013.
 
Vishal will be remembered for so many qualities, but perhaps most of all for his genuine and caring attitude towards others. At his "celebration of life" at his local church, countless friends and family members talked about his character. Vishal always cared about others—about how their lives were going. Many of the people in Vishal's life referred to him as "the professor" because of his ability to give wise advice and support to his loved ones.
 
Everyone at DO-IT will always cherish the time we got to spend with Vishal. Rest in peace, good friend.
 
If you would like to honor Vishal's legacy by making a donation, please donate to Northwest's Child (www.northwestchild.org) or Camp Promise (www.camppromise.org).