'99 Ambassadors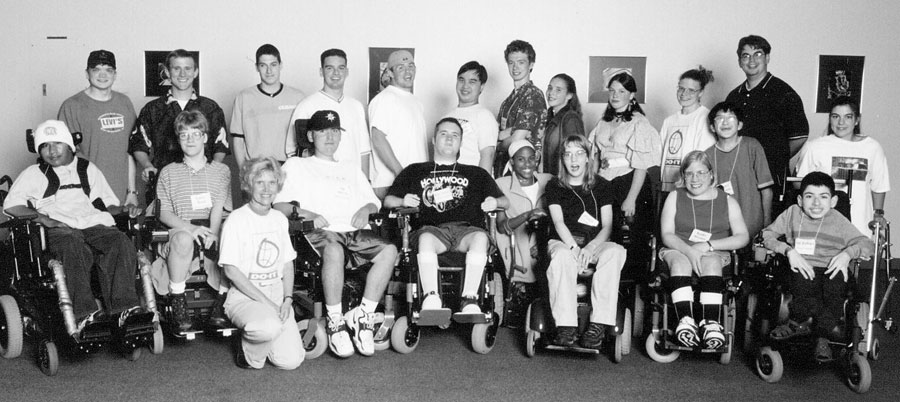 The following Ambassadors began participating in DO-IT as Scholars in 1999. They continue to pursue college and career goals and encourage younger DO-IT Scholars and Ambassadors.
Duchenne muscular dystrophy
Earned a degree in computer science from Central Washington University. Works as a developer for Microsoft.
Speech and learning disabilities
Earned a bachelor's degree in parks and recreation from Central Washington University.
Spina bifida and ADD
Working on an associate's degree in arts and sciences at Tacoma Community College (TCC) with plans to continue studies in social welfare. Currently works in TCC's enrollment services office.
Mobility, speech, and hearing impairments
Earned a bachelor's degree from Central Washington University with a major in English and a minor in creative writing.
Attended Seattle Central Community College.
Quadriplegia
Attended Yakima Community College.
Muscular dystrophy
Passed away March 2005. Graduated from Big Bend Community College and was interested in a career in computer-aided design or video game programming.
Deaf
Graduated with a degree in physical education from Western Oregon University. Pursuing a master's degree in deaf education at Western Oregon University with plans to work as a coach and teacher.
Learning disability
Earned associate's degree in computing from Spokane Falls Community College. Works in the IT department of Numerica Credit Union.
Learning disability
Earned an associate's degree from Grays Harbor College.
Freeman-Sheldon syndrome
Attended Seattle Central Community College, majoring in web design; plans to complete an associate's degree and transfer to a four-year college. Travelled to Taipei to learn Mandarin Chinese at the Mandarin Training Center at National Taiwan Normal University.
Larsen syndrome, double amputee, and two artificial legs
Graduated from the UW with a major in European studies and a minor in political science. Works at NOAA Fisheries Science Center as an IT specialist. Plans to join the Peace Corps.
Cerebral palsy and language and processing disabilities
Attends Shoreline Community College. Writes about disability and advocacy issues at http://naynaynews.blogspot.com/.
Visual impairment
Graduated from the University of Portland with a degree in political science and philosophy. Has been working in volunteer and non-profit environments, including a homeless shelter in Uganda. Plans to begin Peace Corps service in sub-Saharan Africa.
Learning disability
Attended Skagit Valley College.
Cerebral palsy
Attends Washington State University. Works for the Pasco and Kennewick School Districts as substitute teacher.
Spina bifida
Attends the Evergreen State College in Tacoma to complete a bachelor's degree in liberal arts and become a child life specialist. Works at the Langston-Hughes program for youth.
Osteogenesis imperfecta
Graduated with an associate's degree from Edmonds Community College. Interested in computer engineering.