'97 Ambassadors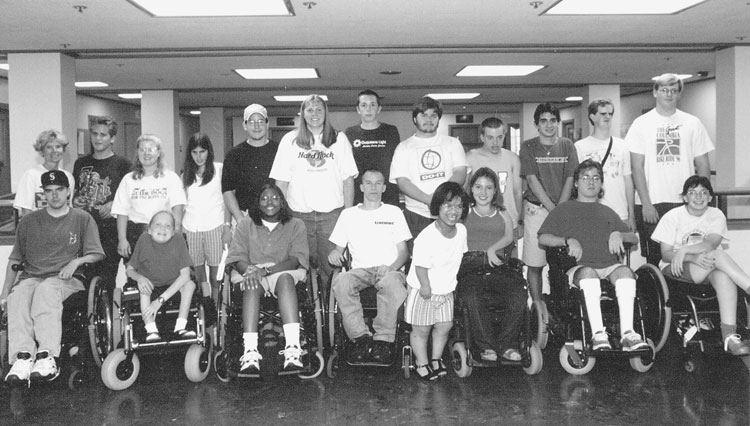 The following Ambassadors began participating in DO-IT as Scholars in 1997. They continue to pursue college and career goals and encourage younger DO-IT Scholars and Ambassadors.
Blind
Graduated with a Bachelor's degree in general studies from the University of North Dakota. Pursuing a career in blindness skills education.
Paraplegia
Graduated with honors from the University of Great Falls with a degree in communications and a minor in computer systems integration. Works as a freelance writer.
Achondroplasia
Graduated from the University of Washington with a Bachelor's degree in economics, 2004. Currently working at NOAA Fisheries Science Center.
Paraplegia
Attended the University of Arizona. Currently a senior at Northern Arizona University studying business management. Working at Pima Community College in Tucson as a business mathematics tutor.
Blind
Attended St. Pete Junior College.
Spina Bifida with Upper Motor Neuron Dysfunction
Graduated with a Ph.D. from the University of Denver's Graduate School of International Studies in Political Theory and International Politics. Enjoys spending time with his family and dogs.
Profoundly deaf
Graduated from the University of Connecticut with English and publishing degrees. Pursuing a career in editing.
Dyslexia
Manager at Verizon Wireless.
Severe hearing loss
Graduated from the University of Connecticut with a degree in economics and pursuing an Master's of Business Administration at the University of New Haven.
Ischemic spinal cord injury
Completed a Bachelor's degree in physics and philosophy at Hendrix College; pursuing graduate studies in physics at the University of Arkansas.
Blind
Attended University of Utah and was pursuing a career in engineering. Passed away in 2001 after a battle with cancer.
Graduated from Harvard in 2003. Working as a legislative staffer in the United States Senate and attending the Georgetown University Law Center at night. Plans to continue working in Washington, D.C. upon graduation from law school.