'94 Ambassadors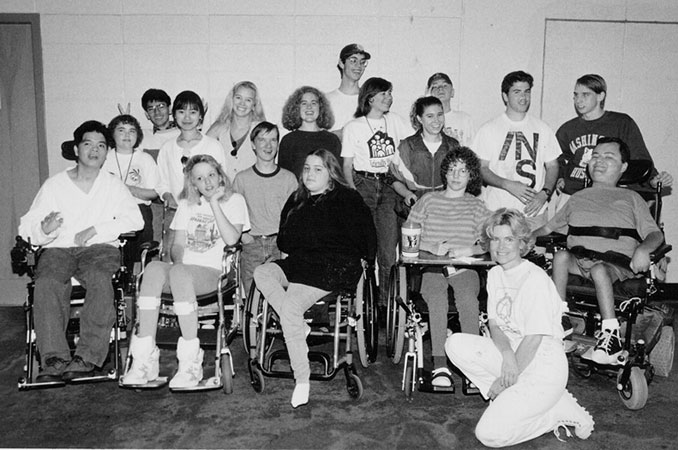 The following Ambassadors began participating in DO-IT in 1994. They continue to pursue college and career goals and encourage younger Scholars and Ambassadors.
Cerebral Palsy
Working in technical support area.
Spinal Muscular Dystrophy
B.A. in English, University of Washington. Attending law school at Pepperdine School of Law. Plans to do community litigation work.
Post-Polio
B.S. in Speech and Hearing Sciences, University of Washington. Attending Clark College, studying computer networking.
Learning disability
A.A. in Arts and Science, Pierce Community College. Works for Pacific Office Automation as a shop supervisor.
Health and orthopedic impairments, dwarfism
Majoring in computer science at Utah State University.
Health impairment, nervous system Dysmorphia, and Congenital Scoliosis
Attending the University of Washington, pursuing career interests in physics, biology, mathematics, and computers.
Visually impaired
Attending Southern Oregon University, with a major in psychology and a minor in hotel, restaurant, and resort management.
Muscular Dystrophy
Working at Columbia Industries.
Paralysis from brain injury
Works at Deseret Industries Donation Center.
Dyslexia
Majoring in clinical lab science at the University of Nevada.
Undiagnosed severe neuropathy
Systems Administrator at own Internet service provider business. Runs several other businesses.
Cerebral Palsy and low vision
Pursuing teaching science at Shoreline Community College.
Visual impairment
B.S. in Psychology and Chemistry, Oregon State University. Works at Nexus Information Security.
Chronic Lyme disease
B.A. in Biology, Pacific Lutheran University. Works at INTRACEL (biotechnology company) in quality assurance microbiology. Hopes to attend graduate school.