'94 Ambassadors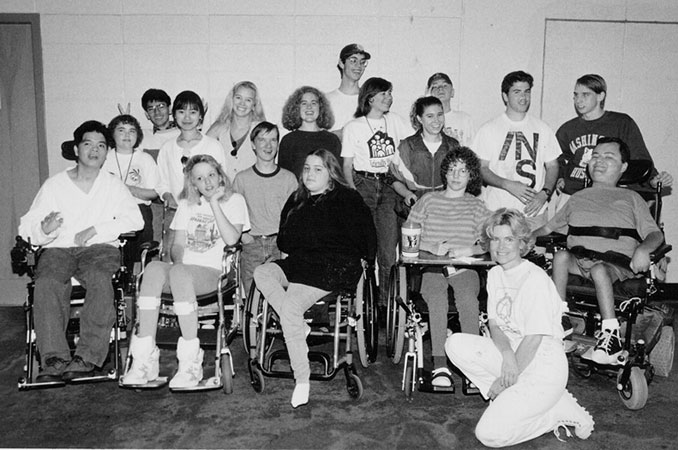 DO-IT Ambassadors are pursuing postsecondary studies and careers. They share their experiences with the younger DO-IT Scholars and Pals, encouraging them to pursue their goals in college and careers.
I'm Anthony from North Dakota. I have Cerebral Palsy. I use a wheelchair and a speech synthesizer. I have been helped by technology, and I want to help others like me use technology. I thank DO-IT for pointing me towards this career. I was a DO-IT Intern at Camp Courage in 1995. My long-term goal is to become a developer of special technology like speaking devices. I was an Ambassador for Prentke Romich and I work at the University of North Dakota.
I'm Ben. I have Spinal Muscular Dystrophy. I worked at Battelle Labs for three summers. I am currently a senior at the University of Washington. DO-IT has enabled me to meet people and make contacts over the Internet. This program has opened doors for me that normally would have been impossible to open. Now, there are no boundaries as nothing can hold me back.
Hi! My name is Maria and I'm from Washington. My disability of post-polio requires me to wear a leg brace to make walking easier. Last June I graduated from the University of Washington with a BS in Speech and Hearing Sciences. Now I am at Clark College in a program for computer networking. This summer I have an internship with Deal-it-up, a new e-commerce company. Having a computer has helped me a lot, especially with arranging my classes, and rides with Dial-A-Ride, finding jobs, communicating with professors, doing my homework, and much more!
Hi. I'm Daniel. I have a learning disability. I have trouble with word comprehension and spelling. I am going to Pierce Community College in Washington, studying to become a marine biologist or an oceanographer. My hobbies include alpine skiing, rock climbing, scuba diving, and other sports. I was an Intern in DO-IT Summer Study '96.
My name is Travis. I recently finished my third year at Utah State University in Utah, pursuing a bachelor's degree in computer science. My primary computer science interests are software engineering, object-oriented design and programming, operating system design, and computer language interpretation and compilation. I am a member of the Free Software and Linux Club, and have been using the Linux operating system for roughly a year now. Right now I work two part-time jobs as a software engineer. I hope to continue working in software development after I graduate, hopefully dealing with Linux and the Python Programming Language. The nature of my disability includes various health impairments, orthopedic problems with my ankles, and a form of achondroplasic dwarfism. DO-IT has helped me realize that others face challenges similar to mine.
My name is Takuya. I am a senior at the University of Washington. My disabilities are health impairment, nervous system dysmorphia, and congenital scoliosis. My interests are physics, biology, theory of math, trigonometry, calculus, and computers. My hobbies are collecting stamps and reading books. The Internet helps me find information and talk to people.
My name is Sherri. I am visually impaired. Last summer I graduated from Southern Oregon University in Oregon, with a major in psychology and a minor in hotel, restaurant, and resort management. One of my favorite times in college was when four other people and myself talked about our disabilities to an audience of college students. Right now I am taking time off to raise my child who was born this year. I am interested in psychology, math, genetics, Spanish, management, and the Internet. For fun I like to swim, play basketball, watch movies, listen to music and more. I was an Intern at Summer Study '98.
Hi all! My name is Shawnna. My disability is Muscular Dystrophy which attacks the muscles. But I get done what I need to. My hobbies include swimming, collecting baseball cards, watching TV, and working on my computer.
I am Nguyen and I work at the Deseret Industries Donation Center in Washington. In 1992, I suffered a gunshot wound to the right hemisphere of my head which paralyzed the left side of my body. I use a one-handed keyboard. I have lived many places, but I like Washington the best. I won the Seattle Youth Hall of Fame Award in 1996. I was an Intern at Summer Study '00.
My name is Sarah. I graduated from the University of Nevada, Las Vegas this summer with a major in clinical lab science. My disability is Dyslexia which affects my reading, math, and spelling. The DO-IT program has helped me understand my disability and other types of disabilities. It has made me open more doors for myself in believing I can DO-IT for life!
My name is Jen and I live in California. My friends and I organized and developed a nonprofit support group for teens with disabilities that largely operates on-line. I plan to go back to college eventually, but for now I work as a Systems Administrator at an Internet Service Provider my friends own. I also do contract work as a Web Developer. My disability is an undiagnosed severe neuropathy.
Hi! My name is Carolyn. I graduated from high school in Washington state in 1997. I attend Shoreline Community College. In the future, I would like to teach science. I also enjoy writing. I was born with Cerebral Palsy and I have a neurological disorder that causes low vision.
Hi. My name is Kris. I recently earned a Bachlors degree at Oregon State University where I studied psychology and chemistry. I am now working with a company I helped start called Nexus Information Security Solutions. We help businesses around the country protect their computer systems and assist them in determining who was responsible if they are attacked. I have a visual impairment. I still spend part of my summers working with the DO-IT program as an instructor and tech support assistant. I worked for DO-IT at Camp Courage in 1996, 1997, 1998, 1999, and 2000; at Camp Easter Seal in Colorado in 1998; at Camp Fairlee Manor (Easter Seals) in Maryland in 2000; at Camp Angelos (Easter Seals) in Oregon in 2000; and at the 1995-98 Summer Studies. In my free time I enjoy hiking, skiing, sailing, and music.
My name is Megan (age 22) and originally I am from Idaho. I graduated from Pacific Lutheran University in Washington with a degree in biology in 1998. I recently returned from a year and half stint teaching biology and chemistry at a private high school in Costa Rica, Central America. I miss my kids and teaching greatly. However, I am now working at INTRACEL a biotechnology company in Seattle. Currently, I am working mostly in quality assurance microbiology. I hope to attend graduate school in 2001. I have chronic Lyme disease-a health impairment. DO-IT has been a great motivator and has expanded opportunities for me personally. My Mentor-Scholar relationship has lasted over six years. Mentors are a great part of DO-IT and wonderful resources!