'93 Ambassadors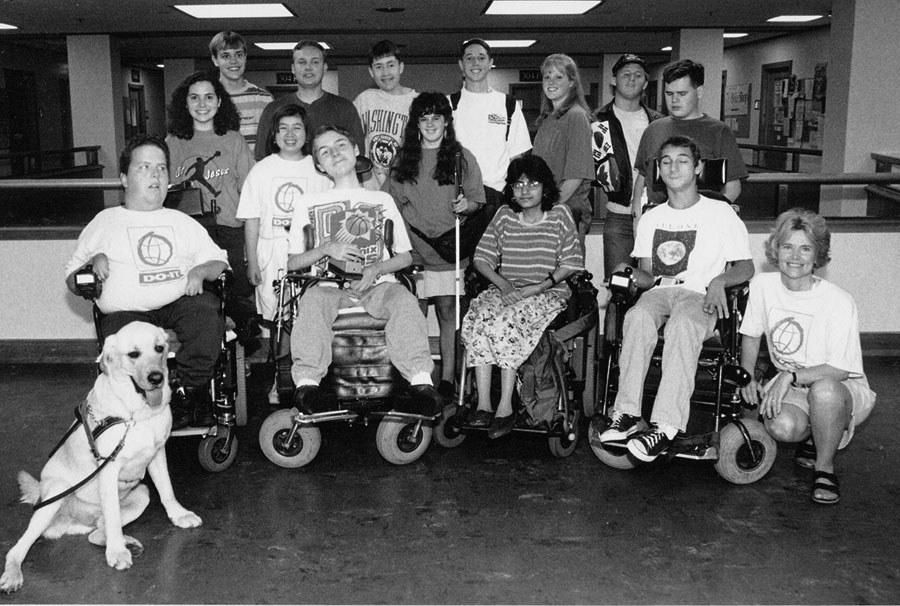 The following Ambassadors began participating in DO-IT in 1993. They continue to pursue college and career goals and encourage younger Scholars and Ambassadors.
Stroke resulting in partial paralysis of right half of body
B.A., Social Work and minor in Applied Psychology, Eastern Washington University. Working for ShelterCare with the mentally ill homeless adults and at The Child Center with mentally ill and emotionally disturbed children.
Attended Big Bend Community College and Eastern Washington University and was busy developing plans for an Internet-based business when he passed away peacefully in his sleep in 2001.
Deaf
B.S., Biology, Washington State University. Master's degree in physical therapy from Eastern Washington University. Physical therapist at a Evergreen Hillsboro nursing facility.
Multiple Sclerosis (MS)
A.A.S., Business, Highline Community College.
Attention Deficit Hyperactivity Disorder and learning disability
Attention Deficit Hyperactivity Disorder and learning disability B.A., Marketing, Seattle University. Working at Nordstrom.
Hearing impairment
Graduated from two-year program in engineering at the Washington Electronic Institute.
Blind
B.S., Evergreen State College. Working as an Engineer III, User Support Lead at Verisign, Inc.
Health and mobility impairment
Graduated with a degree in computer information systems.
Arthrogryposis Multiplex Congenita
Pursuing A.A. at Seattle Central Community College. Sole proprietor of a fleet of Web sites.
Visual impairment
Completed intership at the Department of Environmental Quality as a Network Administrator. Works at Stream International as a Technical Support Representative in DSL.
Blind
B.S., Cell and Molecular Biology, University of Washington. Artist, AmeriCorps employee, and consultant for Mary Kay Cosmetics. Earned a black belt in Aikido. Anna passed away from cancer in June, 2004.
Cerebral Palsy
Developing a cooperative group home.
Dyslexia
M.S. Math and Computer Science, minor in Physics, University of Puget Sound. Working as a computer programmer. Got married in August 2003.
Spina Bifida, Homer's Syndrome, and Thalamic Pain Syndrome
A.A., Wenatchee Valley College. Works as professional recording artist.