'93 Ambassadors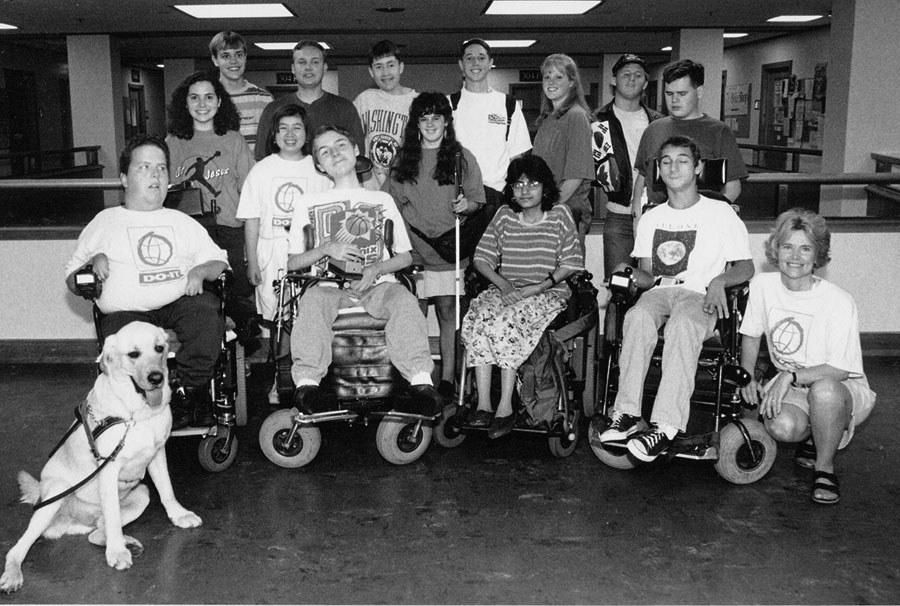 The following Ambassadors began participating in DO-IT as Scholars in 1993. They continue to pursue college and career goals and encourage younger DO-IT Scholars and Ambassadors.
Stroke and partial paralysis
Completed a bachelor's degree in social work with a minor in applied psychology at Eastern Washington University. Is currently attending the University of Southern California through the online program to attain a master's in social work.
Attended Big Bend Community College and Eastern Washington University. Was developing plans for an Internet-based business when he died peacefully in his sleep in 2001.
Hearing impairment
Completed a bachelor's degree in biology from Washington State University and earned a master's degree in physical therapy from Eastern Washington University. Works at Providence Hospital in Portland, OR, as an acute care physical therapist. Has two sons. Received two bilateral cochlear implant in January 2012.
Multiple sclerosis
Works for Seattle Lighthouse for the Blind as an office assistant.
Learning disability
Earned a bachelor's degree in business from Seattle University. Started an auto detailing company, which he sold. Owns a holiday lighting company, which is one of the largest in the state as well as a home and commercial services company. Married and lives in West Seattle.
Hearing impairment
Attends Missouri Southern State University and is majoring in computer forensics. Works at a taxi company. Volunteers at the American Red Cross and is a firefighter for Sheldon Volunteer Fire and Rescue. Is married to a woman who has been deaf most of her life.
Blind
Earned a bachelor's degree from the Evergreen State College and a master's degree in technology management from City University of Seattle. Works as a senior systems analyst at Transaction Network Services. Is married and has two children.
Health and mobility impairment
Graduated with computer information technology degree. Working as a medical interpreter.
Arthrogryposis multiplex congenita
Studying to be a Python/Django developer, enjoys graphic design, and writes for various publications.
Visual impairment
Earned an associate's degree in computer applications from Mt. Hood Community College and bachelor's degree in business administration and marketing information technology from Portland State University. Worked as a temporary help desk technician at the Oregon Commission for the Blind, and is now pursuing positions in information technology such as IT help desk and desktop support.
Blind
Earned a bachelor's degree in cell and molecular biology at the University of Washington. Was an artist, consultant for Mary Kay Cosmetics, and black belt in Aikido when she died from cancer in June 2004.
Cerebral palsy
Starting own business selling adaptive equipment for wheelchairs.
Dyslexia
Works as a software developer and is pursuing a second degree in international political economy (IPE). Plans to use IPE and computer science degrees to reduce global poverty. Lives with his wife in Tacoma.
Spina bifida, Homer's syndrome, and thalamic pain syndrome
Earned an associate's degree from Wenatchee Valley College and has worked as a professional recording artist.