2008 Scholars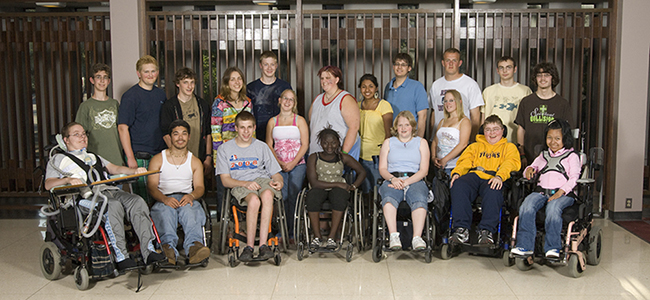 Spinal muscular atrophy type 2
Graduated from the University of Washington Bothell with a double major in communications and sociology.
Cerebral palsy
Studying personal training at Highline Community College. Works at the YMCA.
Erb's pals
Graduated from Columbia University with a master's in public health and University of Washington (UW) with bachelor's degrees in biology and public health. Is returning to UW this fall to start a PhD in health services at UW School of Public Health.
Asperger syndrome
Earned post baccalaureate paralegal certificate at Edmonds Community College. Left Phillips Law Firm to become an insurance claim handler with Allstate Insurance.
Auditory processing disorder
Graduate of Portland Community College with an associate of applied science degree in architectural design and drafting. Works full-time as a computer-aided design drafter at Power Engineers in Lake Oswego, OR, and has for the past two years. Works in the substation department with engineers and designers to help them with their drafting needs on a variety of projects with different power companies.
Dyslexia
Graduated from The Evergreen State College with a degree in environmental sciences and Shoreline Community College with a two-year degree. Currently working for the Bellevue Parks Department.
Dyslexia, dysgraphia
Earned an associate degree from Bellevue College and a bachelor's degree in graphic design from Cornish College of the Arts in Seattle. Works as a designer for a local graphics and sign company. Enjoys skiing and mountain biking.
Nonverbal learning disability, dysgraphia
Attends college and is interested in political science. Worked as a youth camp counselor and soccer referee and wants to be a band teacher. Lobbied a bill for financial education in math classes in Olympia.
Spinal tuberculosis
Plays basketball for the University of Wisconsin-Whitewater. Plans on being a youth counselor.
Asperger syndrome
Earned an associate of arts degree with an emphasis in chemistry and associate of science degrees in chemistry and biology. Currently pursuing bachelor's degrees at Washington State University in material science and engineering with a math minor. Hopes to pursue a doctorate degree in biotech materials.
Autism
Graduated from Pacific Lutheran University with a degree in history with minors in Spanish and religion. Currently working for the federal government.
Cerebral palsy and specific learning disability
Earned an associate degree in applied science in business administration from Spokane Falls Community College. Plans to pursue a certificate in professional baking from Spokane Community College.
Cerebral palsy and learning disabilities
Earned an associate degree in applied science in business administration from Spokane Falls Community College and a certificate in social media. Plans to attend phlebotomy school.
Learning disability
Graduated from California State University, Chico with a degree in business information systems with an emphasis in management. Working as an IT engineer for DXC Technology focusing on systems, applications, and products implementation and support.
Dyslexia
Graduated from Earlham College with a degree in computer science and politics. Interested in computer programming, math, science, and choral singing.
After graduating from Napavine High School, took online college classes in his area of interest, psychology. He joked that he wanted to be the next Dr. Phil. Aspired to work with families, with children or in the field of drug addiction and will always be remembered for his sense of humor and playful nature. Passed away in April 2018.
Duchenne muscular dystrophy
Attended Western Washington University. Works part-time on the family farm as a bookkeeper. Engaged in both high school and college debate.
Cerebral palsy, visual and hearing impairments
Graduated from the University of Washington Bothell in Spring 2018 with a major in community psychology and a minor in disability studies. Member of the Golden Key and Tau Sigma Honors Society. Would like to work with children or adults with disabilities. Volunteers at Abused Deaf Women's Advocacy Services with childcare. Started the Rehabilitation Mental Health Counseling- Deaf at Western Oregon in Summer 2018. Received her service dog, Mable, through Summit Assistance Dogs in November 2017.
Brain tumor causing learning delays, health impairments
Attends Western Oregon University working to earn a bachelor's degree and become an American Sign Language interpreter. May pursue a master's degree in rehabilitation counseling and eventually work with individuals who are deaf. Works at Partnerships in Community Living to support people with developmental disabilities.
Cerebral palsy
Studying occupational therapy at Eastern Washington University. Started a wheelchair basketball program on campus and has looked into adaptive recreational activities like rock climbing.