2007 Scholars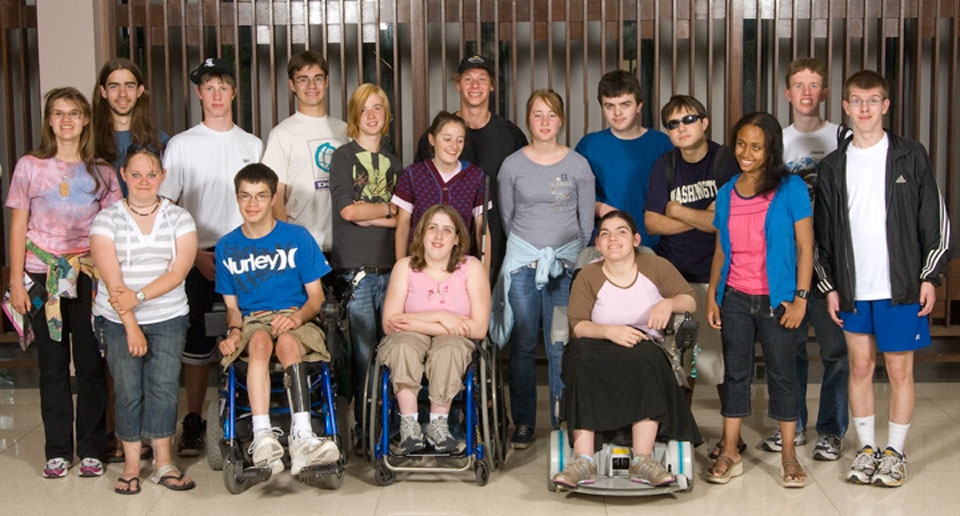 Friedreich's ataxia. Graduated from the University of Portland with a degree in finance in 2013. Worked at WDC Properties in Portland, OR. Currently an MBA and master's in sport and entertainment management candidate for 2017 at the University of South Florida.
Attention deficit hyperactivity disorder. Earned an associate of science degree in networking from Walla Walla Community College. Pursuing jobs in computer repair and troubleshooting.
Cerebral palsy (essential tremor). Obtained her associates of arts degree in December of 2015. Worked as a dental sterilization technician. She passed away on February 10, 2016.
Cerebral palsy. Graduated in December 2015 from the University of Washington Tacoma with a bachelor of arts in urban Studies. Also attended St. Martin's University.
Left-side hemiplegia. Earned an associate of arts and science degree from Whatcom Community College. Currently studying biocultural anthropology at Western Washington University. Doing research on the etiology of congenital heart defects looking at the genetic/epigenetic factors in play in a self-designed independent study.
Severe high frequency hearing loss. Graduated from Chapman University and is a certified athletic trainer. Now working in Portland as an athletic trainer for a professional women's soccer team.
Ehlers-Danlos syndrome. Received a library & information services AAS Degree in spring 2016. Works for the Sprague School District as the librarian and technology coordinator.
Autism, Gorlin syndrome, obsessive compulsive disorder. Earned an associate of arts degree from Grays Harbor College. Works for the health department in South Bend, WA.
Blind. Attends The Evergreen State College studying psychotherapy. Volunteers at Thurston County Crisis Clinic.
Cerebral palsy, learning disability (reading). He is a freelance reporter, producer, and podcaster. He is the voice and producer behind "Side Show Sam's Strange Circus", which is available on Sound Cloud. Currently looking for more experience in the industry and plans to continue gaining experience in the field.
Asperger syndrome. Graduated from The Evergreen State College in 2012 with a bachelor's degree, and in 2016 with a masters in public administration. Hoping to go into a career with politics or policy research. He is an avid runner, an amateur bartender, and enjoys science fiction and fantasy.
Spina bifida. Earned a bachelor's degree in English from Central Washington University in December of 2015. Worked as a teaching assistant at the University of Washington Robinson Center summer school program and has studied abroad at the University of Dundee in Scotland. Currently working as a tutor.
Dyspraxia. Earned a certificate in park aid from Skagit Valley College and an associate's degree. Working again this summer at Sucia Island State Park as senior park aide. Wants to become a park ranger.
Tourette syndrome. Attended Bellevue College and Western Washington University majoring in environmental studies.
Traumatic brain injury. Certified in drafting. Graduated from Yakima Valley Community College.
Attention deficit disorder. Graduated in 2015 with a bachelor's in science degree in biology from the University of Washington after transferring from Tacoma Community College. Currently volunteering at Narrows View Intermediate School.
Legally blind. Earned a degree in psychology and economics from The Evergreen State College. Interested in pursuing a master of social work degree. Involved in an occupational therapy program with Services for the Blind in Seattle.
Asperger syndrome, nonverbal learning disability, attention deficit disorder. Graduated with a degree in interdisciplinary studies and disability studies from the University of Washington Bothell. Currently working for Americorps. Continuing to do volunteer research at the University of Washington with an emphasis on eugenics.