2005 Scholars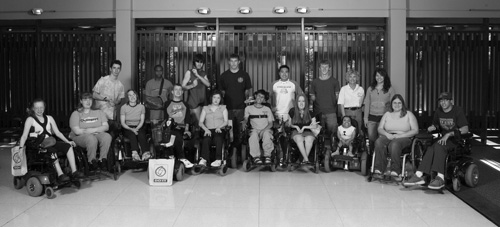 Hearing impairment, cerebral palsy. Attends Seattle Central College and plans to become a counselor or a chef.
Spina bifida. Pursuing an associate's degree at College of Southern Nevada and plans to transfer to the University of Nevada, Las Vegas, to pursue a bachelor's degree in law and justice with a minor in physiology. Wants to work in the juvenile court system.
Cerebral palsy. Earned an associate's degree from Yakima Valley Community College. Would like to work as a public relations advocate for people with disabilities.
Central core disease, muscular dystrophy. Graduated with a masters of social work from the University of Washington in June 2016. Also earned a bachelor of arts in community psychology from the University of Washington Bothell. Works as a program coordinator for the DO-IT Center.
Dyslexia. Graduated from Green River Community College. Works for Bank of America.
Bella Flaccus, '05 Scholar
Cerebral palsy. Finished her certificate in theater and arts at Shoreline Community College. Was assistant director for a play in spring 2016. Planning on getting an associate's degree. Volunteers at the Hunger Intervention Program food bank on Fridays and with Summer Meals in the summer. Worked at Seattle Performer, a kid's theater camp in summer 2016 and at Flaccus Law.
 
Dysgraphia. Earned an associate's degree in fire science. Completed classroom training to become a paramedic. Earned a national certification of firefighter paramedic and now works as a critical care paramedic in Dallas, Texas.
Learning disabilities. Works in billing for a house cleaning service on an island in the San Juans. May pursue a dental program.
Cerebral palsy. Enjoys gaming online, working out, and having a good time with friends.
Tourette syndrome, attention deficit hyperactivity disorder. Graduated from college with degrees in criminal justice and Spanish. Works as a Rick Steves' tour guide half the year and a Seattle Central College academic coach the other half of the year.
Learning disability. Earned a personal trainer certificate from Bellevue College. Plans to return for an associate of science degree, then attend a four‑year college for a degree in exercise science. Works part-time.
Asperger syndrome. Earned a bachelor's degree in forensic psychology and a certificate of crime analysis from Seattle University. Working on a second novel.
Cerebral palsy. Graduated from the University of Washington. Works at the Arc of Washington on policies regarding disability legislation.  Plays wheelchair basketball for the Tacoma Titans. Received a DO-IT Trailblazer award in 2010.
Graduated from Eastern Washington University. 
Cerebral palsy. Part-time employee at Kent Commons.
Morquio's syndrome. Attended Bellevue College and lives in an apartment with a roommate.
Cerebral palsy. Earned master in business administration and a bachelor of arts in management information systems from Western Washington University. Works as a Accessibility Analyst at SSB BART Group remotely from Bellingham, WA. Received a DO-IT Trailblazer award in 2008 and acts as a DO-IT advisory board member.
Cassie (Whitemarsh), '05 Scholar
Spina bifida. Attending Interface College to become a medical assistant.