1996 Scholars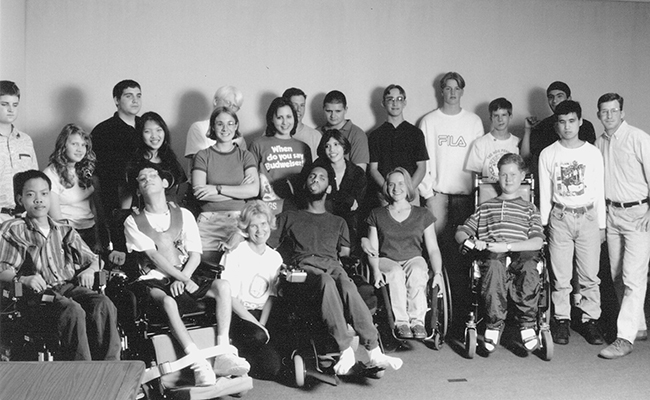 Attention deficit disorder, dyslexia, dysgraphia
Earned a bachelor's degree in microbiology with minors in computer science and chemistry from Eastern Washington University. Works as a study supervisor in the pharmaceutical industry.
Paraplegia
Earned a bachelor's degree in molecular and cellular biology from the University of Arizona and a medical degree from Stanford University. Works as an internal medicine resident at Brigham and Women's Hospital in Boston. Received a DO-IT Trailblazer award in 2004. Competitor in wheelchair racing events, including the 2004 Athens and 2008 Beijing Paralympics.
Brain tumor
Earned a degree in computer science from Eastern Connecticut State University.
Albinism and low vision
Attended Eastern Oregon State College.
Hearing impairment
Graduated magna cum laude with a degree in graphic communications and emphasis in multimedia from Minnesota State University, Moorhead. Works as a web administrator for Daktronics.
Hearing impairment
Studied public policy and administration at Western Oregon University. Works for the Oregon Department of Justice and Benton Country Sheriff's Office.
Deaf
Earned a bachelor of social work degree from Rochester Institute of Technology and a master of social work degree from California State University, East Bay. Has a daughter and a service dog. Lives by the words "Life is short, live bold! Be heard, be you, dream big, take risks, don't wait."
Attention deficit disorder
Attended Pacific Lutheran University.
Cerebral palsy
Attended San Diego State University and studied political science and interior design with an interest in designing accessible homes. Mentored for the Center for Emerging Leadership.
Diabetes
Earned a bachelor's degree in English and art from Augustana College, and a master's degree in teaching from City University. Pursuing a career as a middle school teacher.
Cerebral palsy
Earned a doctoral degree in genetics and completed a postdoctoral fellowship in exercise physiology at Iowa State University with a research emphasis in ras-mediated signal transduction in cancer cells. Works as an assistant professor of biology at the University of Maryland University College.
Larsen syndrome
Earned a bachelor's degree in economic finances and information technology management and a master's degree in city and regional planning from the University of California, Berkeley. Works as the ADA programs manager for the City of Oakland, California.
Blind
Earned a bachelor's degree in computer science from the University of Nebraska, Lincoln. Specializes in software and web accessibility consulting.
Cerebral palsy
Attended Community College of Allegheny County in Pittsburgh, Pennsylvania.
Attention deficit disorder
Earned a degree in graphic design from the University of Massachusetts. Works as a graphic designer.
Muscular dystrophy
Earned an associate degree in horticulture science from Hawkeye Community College. Works in landscape design and freelance web design. Owns a nursery and garden shop, specializing in water gardens and hostas. Serves as the web editor on the board of directors for the American Hosta Society.